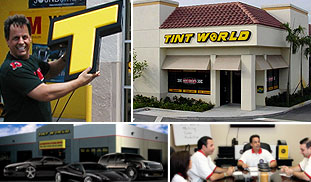 Congratulations to our client, Tint World, for recently awarding a new franchise location in Florida! We just found out that the newest Tint World franchise automotive franchise owner connected to this growing automotive franchise company through Franchise.com.
Tint World continues to grow and currently has locations in California, Florida, Illinois, North Carolina, New York, Oklahoma, and Texas. Franchise.com is very happy to be a part of their franchise expansion!
Learn more about the Tint World automotive franchise opportunity…it could be right for you too.
[schema type="product" url="http://www.franchise.com/franchise/retail-store/auto-repair/Tint-World/company-information.cfm" name="Tint World Franchise" description="Tint World® Home & Office Window Film Division specializes in residential and commercial flat glass window tinting. Tint World® has teamed up with leading manufacturers and suppliers in the window film industry to offer high quality films to both residential and commercial customers. Franchise owners provide free in-home design consultation and professional installation of window film from a Tint World® mobile facility. " brand="Tint World Franchise" price="$95,097.00" ]