Have you ever dreamed of being part of something bigger than yourself? This is one of many reasons why you should start a franchise. International franchising allows you to be your own boss and participate in a multinational organization whose impact can be felt around the globe.
The following are some advantages of franchising at the international level:
No Experience Necessary
When you start a franchise, you don't have to be an expert in your industry to achieve success. On the contrary, you'll be able to lean on the guidance and support of the franchisor. As long as you have an entrepreneurial spirit, you'll learn other important skills as you progress.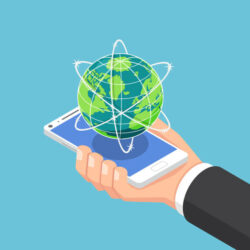 The franchisor is likely eager to enter new regions or new markets. This means that they may jump at the opportunity to equip you with the tools and training needed to run a franchise in your community.
Curious about the advantages of franchising at the international level? The resources and guidance provided by franchises can be invaluable and go a long way to contribute to your long-term success.
Exposure to New Markets
International franchises can often gain traction in new markets where there's little other competition. For example, if your franchise specializes in offering quality Mexican cuisine, you may be able to do business in a region where you are relatively untouched by your competitors.
By opening a franchise in a new region, you have a unique opportunity for explosive growth. But because you're operating a franchise location, you can still depend on the franchisor to guide you with market research, revenue forecasting, and other important services.
This is one of the most important reasons you should start a franchise rather than an independent company.
The Power to Adapt
The best businesses know how to evolve with consumer trends. But knowing what changes to make can be difficult unless you have access to the right research and information.
International franchises have the budget and resources to perform diligent market analysis and are therefore better equipped to meet the needs of customers and the market as a whole.
The franchisor can also help business owners adapt their services, products, or menu over time, so you always stay up-to-date and retain a competitive edge.
Calculated Risk
There's no such thing as a risk-free business. But international franchises have a lot of staying power. In an age where most new businesses fail within a few short years, franchise owners can trust the stability of their franchise company.
Are you still wondering why you should start a franchise? As a franchise owner, you'll experience fewer risks since you'll be utilizing tried-and-true, time-tested business methods developed by your franchisor. This provides a much more reliable path to success than being a solo entrepreneur and trying to reinvent the wheel.
Guidance with International Regulations
Are you specifically trying to invest in a franchise in an overseas location? If so, the franchisor can provide valuable assistance regarding taxes, regulations, fees, etc. Depending on your geographic region, this guidance may help you save money while introducing a product into a whole new market.
This guidance also extends to human resources, workplace safety, and other compliance issues. For example, in some regions, you may even encounter restrictions regarding the ingredients found in your kitchen. Again, your franchisor can help you navigate these confusing regulations so you can open your business quickly.
Branding and Marketing
International franchises have deep pockets and divert a significant portion of their budgets to advertising and brand development.
This can be a huge advantage since you won't have to invest as much energy in communicating what your business is all about. In many cases, you'll be operating under a household name that immediately connects with your customer base.
Additionally, international franchises rely on national advertising campaigns, so it's likely your business will already receive widespread exposure through TV, internet, and radio advertisements.
Some franchises will still expect local owners to contribute to their own promotional materials. The good news is that the hard work has already been done for you, and you'll be fully equipped to reach your target market without having to do your own research or design your own marketing plan.
Social Responsibility
Large companies are increasingly aware of their environmental and societal responsibilities. One of the main advantages of franchising is that you can take pride in your franchisor's steps to lower carbon emissions or pursue equality in the workforce—initiatives you might not be able to invest in as a solo entrepreneur.
Start Your Journey Today
Since 1995, Franchise.com has been helping people like you become their own boss. Why not get started today? Contact us, and we'll get you going on your journey to owning your own international franchise.