[caption id="attachment_2011" align="alignright" width="224"]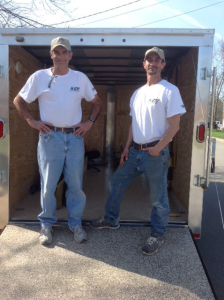 New CTI dealer, Mike Rayburn and his son Andrew[/caption]
Franchise.com
is pleased to announce
Concrete Technology, Inc. (CTI)
has licensed a new dealer, Mike Rayburn of Antioch, TN. Rayburn says the reason he sought a business opportunity was "to supplement myself in retirement. I wanted to stay active and work on my own." Rayburn first inquired to Concrete Technology, Inc. through
Franchise.com's web portal
on December 16, 2014 and "opened the doors" to his new business beginning of March. "I looked at several opportunities," Rayburn states "but for me I felt this was the best from an investment-return basis."
What is CTI?
CTI prides itself on being the leader of the acrylic cement coatings industry and helps people across the world establish their own businesses representing the CTI product line. The company's tag line "Concrete is Our Canvas" gives you a sense of what CTI does; brings design and beauty to concrete through state of the art engineering and chemistry. Examples of a decorative pool patio, driveway and walkway below demonstrate how CTI products cover unsightly concrete.

Rayburn explains, "I was attracted to the CTI model for a few reasons. First, it allowed me to use some creativity both with designing solutions for customers who had a real problem with ugly surfaces and making those surfaces come to life. That was appealing to me. Second, as I researched the material CTI provides, I found it to be of high quality and no product failures. Third, the investment was secured by either material, tools or market support. Fourth, there were no royalties. CTI's money comes from me buying material." His business serves the Nashville, TN area Monday through Friday 7:30 am to 5:30 pm. For questions, comments or estimates you can reach
CTI Nashville
at 1-615-283-7267. For more information on
Concrete Technology, Inc. and the benefits of becoming a CTI dealer, tap here
.
Benefits of CTI products include:
Requires no construction
Look and texture of inlaid brick, tile, slate, marble or a one-of-a-kind look
Long lasting solution
No installation experience
Withstands extreme environmental conditions
About CTI and the Business Opportunity
CTI has seen over 700% growth since its inception in 1992 and has a dealership network throughout the United States in addition to 34 foreign countries. CTI supports their dealers with a 24 hour a day technical support system, a proven marketing plan and ongoing training.  INC Magazine awarded CTI with its "INC 500" designation, as one of America's fastest growing, privately held companies. Interested in having your own Concrete Technology, Inc. business?
Tap here and complete the form at the bottom of the page to receive more free information on becoming a dealer
. Just like in this case of connecting CTI with Rayburn, Franchise.com helps growing franchise systems and business opportunities meet their development objectives by showcasing their concepts to prospective buyers. The industry's most recognized portal, Franchise.com remains steadfast in its mission to deliver highly qualified prospects to its advertising clients.
Tap here, if you're interested in advertising with Franchise.com
.
Franchise.com's directory of franchises and business opportunities is here
.