Woot! Woot! Congratulations to the newest Franchise.com visitor who became the latest franchise owner. Kona Ice awarded a franchise to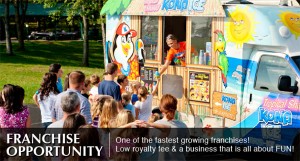 Cheri Lynn Faber of Riverside, CA. Faber  made her first inquiry on March 4, 2014. She researched both Kona Ice and Filta Environmental Kitchen Solutions before making her final decision. Kona Ice is a tropical shaved ice truck business that has a "FUN-omenal" business culture. If you enjoy kids and working for yourself, take a look at this flexible and innovative company. Here are some highlights on what makes owning a Kona Ice a smart franchise choice:
Low Investment
Low, Fixed Royalty
Low Overhead
Low Food Costs
Mobile Business
To explore more about owning a Kona Ice,
visit their Franchise.com ad page here
. If you're interested in hearing what other franchisees have to say about Kona Ice,
there are testimonials and videos, here
. Want to take a quick tropical escape?
You can see Kona Ice in action in this video we took when Kona Ice swung by Franchise.com last spring
. Mmmmm, mmmm boy that was a good visit. Franchise.com has been bringing entrepreneurs and businesses together for more than 19 years.
To take a look at other exciting opportunities and receive free information on companies you're interested in, click here
.