Veronica and Miguel Ruiz, proud, new owners of
Dickey's BBQ
, are hosting a three-day celebration as part of their grand opening this Thursday, July 17, 2014 in Tracy, CA.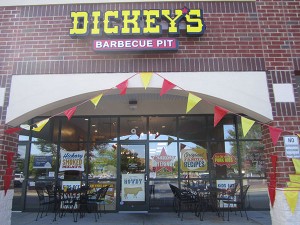 "Our goal has always been to one day open our own restaurant where we served great food and treated our customers like family. When we discovered Dickey's Barbecue Pit, we knew it was a great fit," said first-time franchise owner, Veronica Ruiz. The Ruiz's were born in Mexico and migrated to California as children. Miguel works for a major oil company as a security support analyst. And, before her decision to run the new restaurant, Veronica worked for a major oil company as a legal administrative assistant. Their festivities include free food and cookbooks, raffles and celebrity appearances. Marty Brown, a contestant on the TV show America's Got Talent, will be performing Saturday, July 19th to wrap up the weekend's events. Here's a schedule of the activities at the newest Dickey's location:
Thursday - kick off with a give-away promotion; first 50 guests receive gift cards worth up to $50
Friday - 11 am – 1 pm, Roland Dickey, chairman of Dickey's Barbecue, will stop by to hand out 50 free autographed copies of his new cookbook, and radio station Kat Country 103 will be onsite. Both Tracy locations will be serving $2 pulled pork barbecue sandwiches during this time. One lucky winner will be chosen for a $500 gift card, and three winners will receive free barbecue for an entire year.
Saturday - 5 pm – 8 pm a performance by America's Got Talent contestant Marty Brown. The day also includes all-day merchandise giveaways.
For more details about the new Dickey's Barbecue Pit located on 2469 Naglee Road, 4D in Tracy, please call 209-642-7752.
Tap here if you'd like to learn more about owning a Dickey's Barbecue Pit of your own.
Franchise.com advertises lots of fun food franchises like Dickey's. Some require food industry experience while many do not require any previous experience at all. Your choices in this visible market include everything from fast food franchises to candy and bakery franchises.
Browse other food franchises for sale.