Joseph Enueshike of Elgin, Texas first inquired about becoming a Barbecue Franchise Owner with Dickey's Barbecue Restaurants, Inc. after he received a Franchise.com email in which Dickey's Barbecue Pit was featured in May. Originally from Nigeria, Enueshike came to Texas in 1982 to attend college at St. Edwards in Houston and simultaneously started his career in the fast casual food industry working his way up the ranks from washing dishes to area manager. "I have always had two or three jobs while going to school for accounting and business administration," explains Enueshike. In Nigeria "I worked as an accounting assistant at Elf Oil Company for five years, and I wanted to continue my education and work my way up the ladder."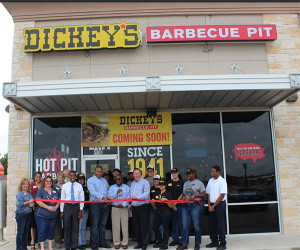 After 18 years as an employee, Enueshike decided it was time to take the next step as a barbecue franchise owner . "When you have a dream it's free, but the hustle is paid separately," says Enueshike. "You're not going to make it, if you don't go after it." It's with that go-get-em attitude that Enueshike started his search for a business to own. "I was looking into several restaurant franchises and subscribing to any restaurant that would give me the opportunity." It was then Greg Ganter, the Dickey's sales manager, contacted him and drew him into the Barbecue franchise. "Greg was very personable and very willing to answer any question I had," explains Enueshike.  "He made me feel very comfortable, and he was the main reason why I decided to purchase a Dickey's Barbecue Pit." Enueshike applied in June for a Dickey's franchise and three months later opened his barbecue restaurant in Killeen, TX on September 10, 2015. "I love the location Greg found for me. It's in a military town," explains Enueshike.
Dickey's Training and Support
Dickey's Barbecue Restaurants, Inc. helped Enueshike hire and train his 10-person crew in addition to his 2 managers; one of which is his 22-year old son. "I went through a rigorous training and learned what the company's expectations were of me as an owner and how to protect their brand. I was very impressed with all the classes. Everyone who helped me the whole way through the process of opening the restaurant was very professional. I didn't have one hiccup anywhere. It was as if God planned it and put all these people in place for me. "
Tap here to see what other benefits the Dickey's franchise features
. Enueshike says the best part about owning his own business is "I have the chance to use my experience in the restaurant business." He continues, "I want to do what it takes to make my guests happy. Make them feel welcome and take care of them because it feels good. It's really gratifying to impact people's lives and serve good authentic BBQ."
About Dickey's Barbecue Restaurants, Inc.
In past two years, Dickey's has opened 520 stores in 43 states making it the nation's largest barbecue chain. Founded in 1941, Dickey's prides itself on living up to its tagline "We Speak Barbecue" by serving authentic, slow-smoked barbecue meats which are prepared on-site in each restaurant. For more
information on the Dickey's Barbecue Pit franchise opportunity, tap here
. Franchise.com has been offering Internet lead generation since 1995 and continues to help growing franchise systems meet their development objectives by showcasing their opportunities to prospective franchise buyers. The industry's most recognized portal, Franchise.com remains steadfast in its mission to deliver highly qualified prospects to its advertising clients. If you or someone you know is looking to own their own business,
tap here to browse the opportunities available
.