Does the smell of popcorn make your mouth water? Mmmmmm. Think how heavenly it would be to eat it in Honolulu, Hawaii. That's what Doc Popcorn customers will be doing at James Matthews's grand opening. He is the newest, proud owner of a Doc Popcorn franchise. Doc Popcorn learned about Mr. Matthews through Franchise. com's lead generation portal.
A husband and wife team started Doc Popcorn in 2003 in their NYC apartment. They blended and created their own naturally flavored popcorn, moved to Colorado, sold their tasty treat all over the state and found time to "pop" out 3 kids.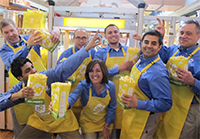 Their goal, first and foremost, is to make you smile by serving up overflowing bags of tasty, all-natural goodness. Some current and creative Doc Popcorn flavors are hoppin' jalapeno, sinfully cinnamon and salt-n-pepper.
In 2013, Doc Popcorn was named the Hottest New Franchise and is one of the fastest growing snack franchises on the planet! Learn more about this fun, unique food franchise if you have any interest in becoming a Doc Popcorn "Poprietor" (franchise owner).
Congratulations to both Doc Popcorn and James Matthews on their exciting new partnership from all of us at Franchise.com.