You may have heard people use the terms franchise or business opportunity, but do you know the differences? It is an important differentiation when you are looking to buy a business. Here we'll outline both business formats and highlight the differences so you can decide which one is right for you.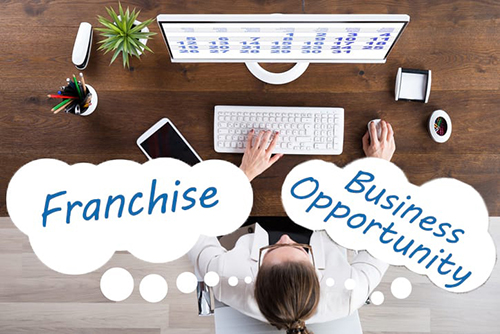 Franchise Fundamentals
A franchise follows the business model of the franchisor. The franchisee purchases the right to sell the product as well as the methods used to sell it. Franchisees can usually start up quickly because they're following a proven system of success set up by the franchisor.
According to the Federal Trade Commission, a franchise is a relationship in which a contract specifies that:
The franchisee will obtain the right to operate a business that is identified or associated with the franchisor's trademark, or to offer, sell, or distribute goods, services, or commodities that are identified or associated with the franchisor's trademark;
The franchisor will exert or has authority to exert a significant degree of control over the franchisee's method of operation, or provide significant assistance in the franchisee's method of operation; and
As a condition of obtaining or commencing operation of the franchise, the franchisee makes a required payment or commits to make a required payment to the franchisor or its affiliate.
One example of a popular, successful franchisor is Subway. You can own your own Subway restaurant and follow it's roadmap with help from the company every step of the way. The company provides everything for you, including national advertising, floor plans, design, training, and an entire system build on the success of owners that have come before you.
Business Opportunity Basics
A business opportunity owner is licensed to sell the product sold by the business opportunity seller. What happens after that varies with each company. It varies from receiving some support in getting started to taking charge of the business completely on your own right away.
In 2007, the FTC amended the definition of "business opportunity," differentiating it from franchising, in order to protect consumers from scams. Business opportunity is defined as a continuing commercial relationship whereby:
A "business opportunity purchaser" sells to any person other than the "business opportunity seller" goods, commodities, or services which are supplied by the business opportunity seller, or a supplier designated by the seller, and the business opportunity seller secures for the purchaser:
Retail outlets or accounts for said goods, commodities, or services; or locations or sites for vending machines, rack displays, or any other product sales displays used by the purchaser in the offering, sale, or distribution of said goods, commodities, or services; or the services of a person able to secure the retail outlets, accounts, sites
2. The purchaser is required to make a payment or a commitment to pay the seller, or to a person affiliated with the seller.
One example of a business opportunity that lets you take charge is Allstate. The franchisee has the freedom to run the business how he/she likes, but would offer Allstate's insurance and financial products, and have access to some of Allstate's resources.
How are they different?
Operations
Franchises are provided with a complete business model with the steps that led to the franchisor's success. Franchisors often provide training and ongoing support. They usually help set up the business and get it running.
Business opportunities provide the product, but you're usually free to run the business however you'd like. Business opportunities will often help establish a location that's in demand of the services it provides. Some of them offer initial support to help get things started. Generally, there is much less structure and support given to the new business opportunity owner.
Brand
Franchises usually require the use of their logo, marketing and sales materials, systems, uniforms, building specifications, etc. so all locations are consistent with each other.
Business opportunities allow you to create your own brand. You design and purchase your own logo and marketing materials, uniforms, etc. The business appears, and is, original aside from the use of the business opportunity seller's product and/or tools to make the product.
Investment
Franchises require a larger investment since you're buying the whole brand that comes with national recognition, you receive more training and support, and you receive marketing materials as well as help from the franchisor with marketing and sales. Franchisees pay an initial fee to purchase the franchise and all that goes with it, and they continue to pay a monthly or quarterly royalty fee that is a percentage of its sales. Some franchises also have a national advertising fund that each owner contributes to. The franchisor runs the campaigns to provide brand recognition, and brand loyalty across the country.
Business opportunities are lower investment since you are purchasing a fraction of what franchisees purchase. Business opportunity buyers also only pay an initial fee and do not pay royalties since they don't receive ongoing support of business opportunity sellers.
Which is right for you?
Franchise Ownership may be right for you if:
You don't have experience owning a business
You want to own a pre-existing business model
You don't want to start up the branding, marketing, and advertising strategy
You want to be a business owner but you would like a roadmap and structure
Business Opportunity ownership may be right for you if:
You are an experienced business owner
You are looking to invest a lower amount financially
You have your own ideas to implement for a business model
You want to own a business, with an existing brand, but in your own unique way/direction
You don't want to follow an existing roadmap and you don't want to be accountable to someone else in how you run the business