Gosh it doesn't take long before you start sounding like your parents does it? But rather than hearing "I used to walk to school uphill both ways" or "I remember we used to sit around the radio to listen to that show", today's generation is hearing "We had to get up to change the TV channels" or "We used to have to wait to get online." Can you imagine what the next generation will be saying to their kids?
Keeping up with technology today may send your head reeling, but one modern feature that is easy and fun to use is TapSnap's phototainment system; an  open-concept photo booth like you've never seen before; a photo booth without a booth, one that has the power to harness social media for an event.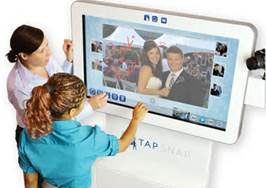 TapSnap is innovative, creative and technologically advanced. It's the first of its kind, – a photo system that instantly connects to social media. Guests at parties or events can create a social media profile for an event, while the event is taking place. They can take their picture by tapping their finger on the 42-inch touchscreen and then add digital props like fun hats, sunglasses, horns, and more. They can also write personal messages on the screen. And when they're done, they can share their photo creations instantly on social networks, with the touch of a fingertip. Gone are the days of carrying around a clunky camera in your purse or pocket to a wedding.
Over the past 3 months, the TapSnap franchise seems to have had a running start right out of the gate; the phototainment franchise went nationwide in June. For those of you considering a fun, innovative and growing industry to pursue, consider all the revenue streams a TapSnap Franchise offers: corporate picnics and holiday parties, weddings, graduations, bar/bat mitzvahs, Quinceañeras, sweet sixteen parties, gallery openings, family reunions, fundraisers and much more.
Not only is owning a TapSnap franchise fun, it is affordable. With as little as $32K you can own a TapSnap franchise and be up and running in less than 45 days. You can also choose to run this business on a full time or part time basis! To learn about more benefits of becoming a TapSnap franchisee, please go to Franchise.com and capitalize on this modern day photo booth franchise.