Perry and Kim Gilpin of Kentucky opened their Maid Simple House Cleaning business in March 2013 and have experienced tremendous success. Here is an account of their experience with the
Maid Simple team
and advice for future Maid Simple franchise owners.
A Little Background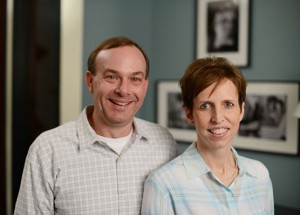 The Gilpins have more than 25 years combined work experience in sales and business; Kim worked in retail for 15 years, and Perry managed a cleaning company based in Louisville, KY for more than 10. Although they co-own their new franchise, the Gilpins also clean their customers' homes acting as owners/operators of their business. "Maid Simple House Cleaning business is a great business opportunity for a hard-working couple interested in making a living together instead of spending so much time apart working separate jobs," says Kim. Although working together isn't always a bed of roses, the couple says they love the benefits of working side-by-side cleaning and doing office work.
What Drew the Gilpins to Maid Simple?
When researching businesses to own, the Gilpins found the Maid Simple House Cleaning business flexible hours for owners, cost effective start-up costs and the company's 30+ year history set them apart from their other options.  Perry says "We invested in Maid Simple House Cleaning because we felt confident that the model's setup allowed for repeat customers that could be profitable for us in a very short time frame."
Ideal Maid Simple Owners
"From our very first phone call with Maid Simple House Cleaning business we felt like part of a team," comments Kim. The Gilpins suggest those who are interested in franchising be flexible, well-organized and ready to provide quality service. Their Maid Simple franchise serves Elizabethtown, Fort Knox, Campbellsville, and Lebanon, Kentucky. For more information about Perry and Kim, visit their
website
.
More Information
If you feel there is a need and demand in your area and are interested in researching a Maid Simple franchise of your own,
visit the listing on Franchise.com
.
Click here to learn about the investment, training and support Maid Simple provides franchise owners
.
Click here to read the franchise agreement and the nitty-gritty of owning a Maid Simple House Cleaning franchise
. Interested in comparing Maid Simple to other cleaning businesses?
Click here
.