This post is dedicated to all-things KFC, including why it is one of the best franchise opportunities right now.
A Brief History of KFC
A brainchild of "Colonel" Harland Sanders, KFC is a fast-food restaurant that's focused primarily on fried chicken. Founded in 1930 in Kentucky, it's currently a subsidiary of Yum! Brands, Inc., which is also the parent company of Taco Bell, WingStreet and Pizza Hut.
Interestingly, the ownership of the franchise had changed hands at least 3 times before the eventual purchase by Yum! It was first sold to Heublein in 1971, then to RJ Reynolds in 1982 and thereafter to PepsiCo in 1986.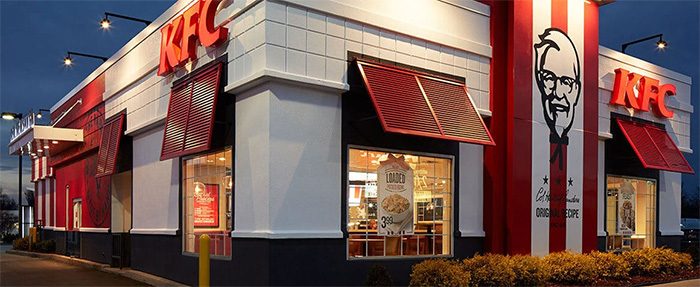 Despite all these changes, KFC's menu has managed to remain pretty much true to its original pressure-fried chicken recipe. Of course, most KFC restaurants today also serve desserts, hot wings, chicken sandwiches, chicken strips, and grilled chicken, just to mention a few.
Did you know that the fast-food chain was original known as Kentucky Fried Chicken? This lasted until 1991 when it was renamed KFC.
Does KFC Franchise?
The answer is a resounding YES. KFC doesn't just serve crispy, finger-licking chicken. It also franchises under KFC Corp. (KFC LLC), which is the second-biggest fast-food franchise after MacDonald's based on total system sales.
When did it start franchising?
KFC began franchising in 1952, when it made Pete Harman from Salt Lake City, Utah the first franchise owner. Pete is often considered the brains behind KFC's famous slogan: "It's finger-lickin' good".
Currently, there are over 22,000 KFC locations spread across 130 territories and countries, serving more than 12 million customers every day. More than 5,310 (about 28%) of these units are located in the United States alone.
Yum! Brands, Inc., on its end, operates a total of over 42,000 restaurant units worldwide, including locations in over 130 territories and countries. This makes Yum! Brands, Inc. one of the largest QSR brands in the world.
How Much do you Need to Start a KFC Franchise?
Recently, KFC was named by the Entrepreneur Magazine as one of the top 20 franchises in the world. But what does it take to own a franchise with the brand? How much you need depends on several key aspects of your potential unit, most notably the location of your unit and whether you intend to co-brand it with Pizza Hut or Taco Bell.
However, recent numbers show that you need a total investment of between $1,442,550 and $2,771,550 to open a new KFC franchise. You also need a verifiable net worth of at least $1.5 million and at least $750,000 in liquid assets.
How Much is KFC Franchise Fee?
KFC charges an initial franchise fee of $45,000 to all of its new franchisees. You will also have to remit 5% of your gross revenues as an ongoing royalty franchise fee.
What are the Startup Costs of a KFC Franchise?
With a lump-sum franchise fee of $45,000, the estimated startup costs for opening a new KFC unit comes up to between $1.3 million and $2.5 million. The biggest portion goes to capital equipment and construction costs. These include purchase of fryers, grills, and other machines, which totals between $695,000 and $1.2 million.
Other startup expenses include property lease, training costs and recruitment expenses. As a franchise owner, you will also have to pay into an advertising fund which is charged at a rate of 5% of the franchise monthly gross sales, according to the franchisor.
How Much Does a KFC Restaurant Make?
The amount of revenue KFC restaurants generates, of course, boils down to the location and prevailing local economic climate. On average, however, KFC locations generate approximately $942,000 annually in sales, according to a recent QSR report. Nonetheless, KFC doesn't release profit and loss numbers for its franchised restaurants.
Why Buy a KFC Franchise?
Almost everyone loves fried chicken, but what are the chances of you becoming the next big "Colonel Sanders"? KFC is the 2nd largest fast-food brand, with equally high profits and revenues. The company offers a robust and reliable brand and incredible value to new franchisees. KFC restaurants have also shown resiliency during hard economic times.
References
https://en.wikipedia.org/wiki/Yum!_Brands
https://en.wikipedia.org/wiki/KFC
https://www.jobmonkey.com/franchise/kfc-franchise/
https://www.businessinsider.com/what-it-costs-to-open-a-kfc-2015-7?IR=T
https://www.businessinsider.com/the-top-20-food-franchises-in-the-world-2015-7?IR=T