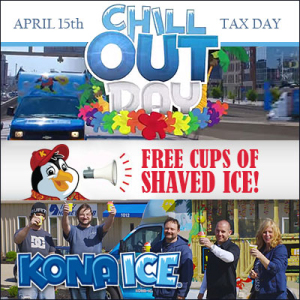 As you enter post offices and tax preparation centers such as
Liberty Tax
and H&R Block across the country this tax day, April 15
th
, Kona Ice trucks will be parked outside handing out free cups of shaved ice and Hawaiian leis; a complimentary treat from Kona Ice to those stressed out by the deadline.
Kona Ice
 trucks are helping people nationwide to chill out as part of The Flavor Our World campaign which encourages people to give back. The campaign promotes charitable giving such as making donations to schools and this "chill out" tax day relief promotion. Through partnerships with schools, youth sports leagues and other neighborhood organizations, Kona Ice has given back over $25 million to the communities it serves.
Tap here to learn more about the philanthropic Kona Ice programs
.
About Kona Ice
A
Franchise.com
client since 2009, Kona Ice is a unique mobile frozen treat franchise ranked #1 Overall Franchise in Entrepreneur Magazine and Highest in Franchisee Satisfaction by two separate agencies, Franchise Business Review and Franchise Update. Besides the combination of having a cool concept and strong vision, it's clear the company just wants to make the world a better place.
Tap here to learn about the benefits of owning a Kona Ice business
.
"This has been a game changer for my life, because it's given me experiences for my family. I wouldn't have a way of connecting with them from a work perspective. I'm very passionate about creating memories for my kids. This is a way of showing them another side of the world, not just fun and play, but hey let's go have fun and play and work with Kona. My family is proud of the business we've created here." - Josh Hall
For more
testimonials from Kona Ice owners, tap here
. Starting your own Kona Ice mobile business requires $25,000 and comes with corporate support, training and marketing. Get the specifics on
what is included with this fun franchise here
.
Franchise.com
helps expanding franchise systems, like Kona Ice, meet their development objectives by showcasing their opportunities to prospective franchise buyers. The industry's most recognized portal, Franchise.com remains steadfast in its mission to deliver highly qualified prospects to its advertising clients.
Click here, to learn about advertising on Franchise.com
.