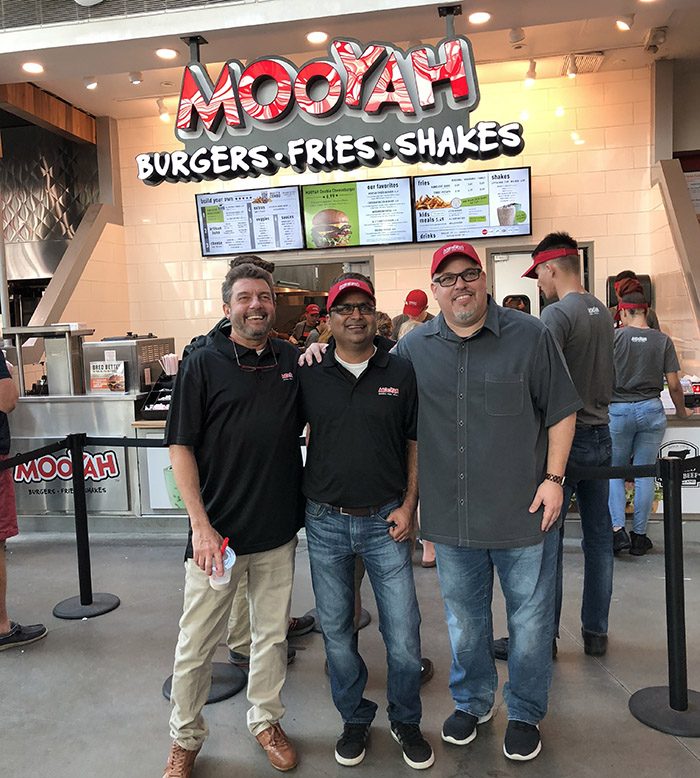 MOOYAH Burgers Lands 3-unit Deal with Lead from Franchise.com
On January 23, 2018, what was an initial inquiry from Kevin Hipes to MOOYAH Burgers, Fries & Shakes turned into a multi-unit deal. Hipes agreed to open three MOOYAH locations in Central Florida with his business partners Keith Fields and Raj Bakshi. Together, the trio formed Bakfield, LLC and successfully opened their first restaurant in the Oviedo Mall on November 12th, 2018.
The Process
Raj Bakshi and Keith Fields worked together in the tech industry for 20+ years. They always wanted to build a business of their own together. While searching, they realized that not all franchises were created equal. And, that they were missing a critical component to their business formula. They needed a broker with experience in commercial real estate and construction who could help fill the gap. Therefore, Keith recruited life-long friend, Kevin Hipes. Each partner brings their unique talents to the group: Bakshi is responsible for operations, Hipes is responsible for real estate and construction and Fields focuses on marketing and social media.
"Once we had our dream team in place, we had our first phone call with MOOYAH. And, we knew they were the right fit for us and us for them. MOOYAH flew into town within the next week or so. We met face- to-face, and we knew our franchise search was over," recounted Fields.
Why MOOYAH?
Bakfield, LLC chose the expanding burger brand because "we wanted a franchise that was well established but new to the Florida area that served fresh, high-quality ingredients, and, finally, a franchise that would complement our team and knew how to have fun while working hard. We found all the above with MOOYAH," explained Fields.
MOOYAH is a great opportunity to get in on the ground floor of an honest-to-goodness food franchise and is perfect for people who appreciate wholesome food. MOOYAH Burgers, Fries & Shakes serves made-to-order burgers with lean, 100% Certified Angus Beef, freshly made buns baked in-house daily, hand cut fries from Idaho potatoes and real ice cream shakes.
Future Plans
Although Bakfield does not have their next locations identified, they are currently looking East of I-4 (Altamonte Springs), Oviedo, UCF area, as well the Waterford Lakes area and hope to secure the next location very soon.
MOOYAH's Recognitions
MOOYAH Burgers, Fries & Shakes is based out of Plano, TX. Founded in 2007, it is proud to be ranked among industry leaders on the following lists:
Entrepreneur Magazine's Top 200 Food and Restaurant Franchises of 2018
FranchiseRankings.com's Top 10 Fast Casual Restaurant Franchises #7
Entrepreneur's Franchise 500
Franchise Times' Fast & Serious list of the smartest growing franchise brands
Fast Casual Magazine's annual Top 100 Movers & Shakers #11
Learn more about the costs, benefits and locations available to open a MOOYAH's Burgers & Fries, tap here.
Fields says "We love our local Oviedo community, and we're proud to bring about 30 new jobs to the area. Plus, we love the Oviedo Marketplace, and we know Oviedo is going to love MOOYAH!" If you live near the Oviedo area, stop by and say hi at one of the newest MOOYAH locations: 1700 Oviedo Mall Boulevard, Oviedo, FL 32765.
Franchise.com
Franchise.com helps franchise systems find prospective franchise buyers. The industry's most recognized portal, Franchise.com remains steadfast in its mission to deliver highly qualified prospects to its advertising clients. Click here, to learn more about the MOOYAH franchise opportunity and click here to explore other businesses looking for owners throughout the country.