Reaching a broad market, establishing a footprint in foreign markets, and meeting consumers' growing demands are key characteristics of the most influential franchise brands in the sector. As much as the franchises seem to have gained popularity in the past couple decades, they have a long history. Franchising has played an essential role in the modernization and the economic growth of many nations.
Today, opening a franchise is among the most critical decisions that entrepreneurs make. There are thousands of franchises, and the following are the most influential of them all.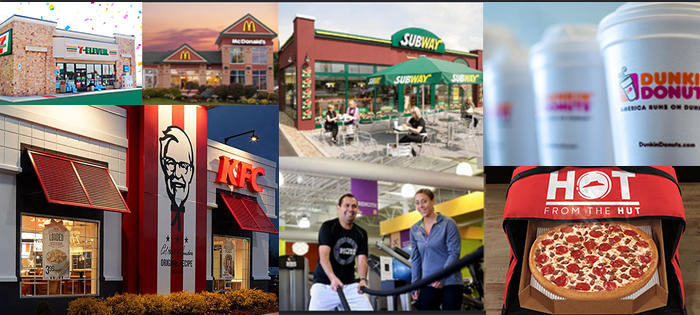 McDonald's
McDonald's is a fast-food franchise that has 29,544 franchises across the globe. The first franchisee, who was also Mac and Dick McDonald's business partner, opened the first restaurant in 1955 and marked the birth of the McDonald's franchise. The major contributing factor to the success of the franchise is the support and training it gives its franchisees. The dedication to franchise owners has drawn the interest of most candidates as they aspire to get into a business relationship with McDonald's.
The franchise is internationally recognized for its fast-food services of hamburgers, chicken, fries, milkshakes, and salads. To invest in the franchise, you need a minimum of $1,263,000 and up to $2,235,000. McDonald's continues looking for new franchisees worldwide.
KFC
The first KFC franchise was launched in 1952, after Harland Sanders, KFC's founder awarded it to Pete Harman. The number of KFC franchises currently stands at 13,846. To open this franchise, you need between $1.4 million and $2.7 million.
KFC is loved for its tasty chicken, whose recipe remains a secret today. It has received recognition across the globe by different stakeholders, making it an attractive venture for aspiring entrepreneurs. If you are looking to open a franchise, this would be an excellent opportunity, as the franchisor seeks to establish more units worldwide.
Pizza Hut
The franchisor has made significant investments over the past in ensuring that their franchisees successfully operate their units in different parts of the world. This has been exhibited through training and support offered in running these chains. The franchise also has a reliable reputation. Investors have seen and tapped the potential of this franchise. It has experienced an upward trend in growth since the first franchise was launched in 1960, in Topeka, Kansas.
Pizza Hut was started in 1958 by two brothers, Dan and Frank Carney, using a loan of $600 borrowed from their mother. Today, the franchise operates 12,956 units worldwide. If you want to open a Pizza Hut franchise, you will need a minimum of $357,000 and up to $2,213,500.
Dunkin' Donuts
Dunkin' Donuts is one of the oldest franchises in the world. The history of the franchise traces back to 1946, when the founder, Bill Rosenberg, started delivering food to workers in Boston. Dunkin' has managed to open units in over 32 countries across the globe. Brand loyalty is one of the factors that has made the company stand out above other coffee and donut shops. The company operates a total of 11,310 franchises, which require between $395,500 and $1,597,200 to open.
Subway
Subway is among the most popular sandwich franchises. It is well-recognized across the globe and receives significant attention from several platforms, including social media. The business was opened by Fred DeLuca in 1965 to help him save for college. The company experienced several challenges before becoming what it is today.
Its first franchise was established in 1974 and is today available in over 98 countries. The initial investment for operating a Subway franchise is $140,050 on the lower end and a maximum of $342,400. Already, 42,227 units are operating worldwide, and the franchise is looking to add more franchisees.
More Powerful Franchises
7-Eleven, Anytime Fitness, and Taco Bell are also some of the most influential franchises across the globe. Their units receive a lot of traffic in their locations and have loyal customers. The franchisors have taken it upon themselves to train and support their franchisees to align them with their mission and values; a contributing factor to their success.
The quality of their products and services also stands out, attracting most customers. The ability to satisfy and attract customers has made them a point of interest for their investors. Investing in any of the above franchises is a smart move. The satellite units have created employment opportunities worldwide, making a significant contribution to economic development.