For many people considering a owning a franchise, choices in the fast food industry are what comes to mind first. Many successful restaurants offer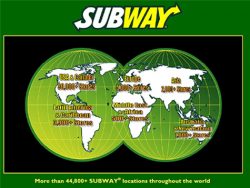 you the opportunity to start your business at a run. A
Subway franchise
is not only a popular fast food restaurant, it is one of the top franchises you can own, and the first question is what does a subway franchise cost? 
Franchise.com
is a great resource for obtaining information on all types of franchises, including those in the food and restaurant industry. Since cost is a factor for almost anyone investigating a new business, the Subway franchise cost is one that you will need to consider before you make your decision. Happily, the Subway franchise cost for start-up is one of the lowest in the industry. This is one reason why so many people have gotten on board with Subway. In comparison to other restaurants, the Subway franchise cost is a fabulous investment in a restaurant that has shown nothing but growth since it began operations! Your Subway franchise will also include training and support from the company so that you have all the tools you need to add your restaurant to the growing number of successful Subway franchises. With their great sandwiches, healthy menu choices, and environmentally considerate business practices, Subway has tremendous appeal for any aspiring franchisee. When considering a fast food or restaurant franchise, consider your overall costs in comparison with the success that others have gotten from starting a business with that particular company. Although the Subway franchise cost for start-up is lower than most fast food restaurants, you will need to be aware of the overall investment requirements and the options for financing. There are a number of factors that will determine your overall Subway franchise cost, including the location you choose and the amount of work required to get the restaurant ready to open. In addition to being responsible for the initial franchise cost, you will also be responsible for finding a location, leasehold improvements and equipment, and hiring employees and operating the restaurant. You will be responsible for paying the initial franchise fee as well as paying an 8% royalty to the company and a fee for the advertising fund. The Subway franchise cost to the main company is one that is comparable to many other food franchises, but with a much greater promise of success! Their exceptional growth, ongoing support, and popular, healthy products make them a good choice for many people who want to have a fast food or restaurant business. Visit Franchise.com to learn more about the
Subway franchise
opportunity and what to expect from the Subway Company once you become a franchisee.