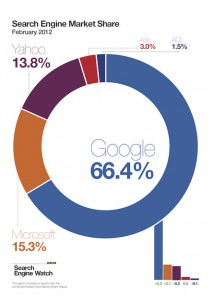 4 Ways to Get More Business from Google: Part 1
Between everyday computer usage and the rise of smart phones and tablets, more and more people are using the Internet to make purchasing decisions.
With a current U.S. Internet search market share of 66%, Google remains king of the search engines.
70% of users' clicks go to the top 4 ranked search results on Google for a non-branded search query (i.e. "find cosmetic in dentist Nashville TN" versus "Pepsi").
     What's the takeaway from these three points? A lot of people use Google to make purchasing decisions. If your business is not on the top of the Page 1 search results for non-branded searches, if you're online reviews are an eyesore, or if you don't have any content that separates you from the competition, then you're business is missing out on a lot of new customer opportunities. This is going to be a four part presentation spread over the course of four blog posts about ways you can better take advantage of the Internet as a channel to market your business and obtain more customers.
     The first part goes to the SEO front – keyword research. In order to rank highly in the search results on search queries that are performed by your target audience, you need to figure out what your target audience is typing in. By applying those words in the content of your website and your online listings in Web 2.0 and online business directories when available you better inform the audience (and search engines) about your specific products and services.
Part 1: Keyword Research:
We know that being at the top is important. What's even more important is being at the top of the search most likely performed by your target audience. If you're a day spa in Charlotte and your website ranks #1 for "dog trainer Los Angeles," that does you no good. However, if you're #1 on Google for "day spas Charlotte NC," you stand to gain a lot more quality traffic to your site –people searching specifically for a day spa in Charlotte!!!!!
e're going to need a bigger sales staff…..
     So how do you determine what your target audience is typing in to find a business like yours? The best place to start is the Google Keyword Tool. It's free, simple and will provide you with data on what keywords are used the most by your target audience.  Check out this Local SEO Keyword Tool video for a quick tutorial. A few best practices to remember when using the Google Keyword Tool:
Use local indicators in your keyword:
Let's use a company called Animal Pros as an example. They have locations across the Southeastern United States. While it's true to say that being #1 on Google for "wildlife removal" would bring Animal Pros' website an enormous amount of visitors of potential customers, how qualified would those visitors be? How much of that traffic is coming from the Southeastern United States versus say California or Texas? Better keywords for Animal Pros to be #1 on would be "raccoon removal Nashville" or "wildlife removal in Nashville TN"– less traffic for sure, but a better chance of acquiring customers that they can actually serve.
     The takeaway: if you're trying to obtain business specifically from your local area, then make sure there is a local indicator within your keyword. Avoid local indicators if you're trying to obtain business on a national scale (example: "buy electronic medical records software").
Quite the difference in traffic! (The term "Local Monthly Searches" means searches performed in the United States.
Use "exact match traffic" data versus "broad match traffic" data:
"Broad Match" traffic will provide you with larger monthly search volume figures for the keywords you type in. Keywords like "I want to sell cheap eye glasses in Dallas" or "how to sue an eye glasses store in Dallas" would be included in the Google Keyword Tool's search volume figures for the keyword "Dallas eye glasses." Why? Because the words "Dallas," "eye" and "glasses" are all used within those other two search queries. The result: "Broad Match" will inflate the search volume figures and give you a poor idea on the true volume of traffic searches for your products or services.
We recommend selecting the "Exact Match" option. This option will show you the exact number of times the search query you're researching is performed every month. In this case, it would show you exactly how many times people perform the search query, "Dallas eye glasses." Less traffic but gives you a more accurate idea on the number of people searching specifically for what you offer – people that are more likely to convert into new customers!
- On the left side of the keyword tool, select "[Exact]" and unselect "[Broad]."
Monitor the "Competition" levels:
     Look back at the earlier picture showing pizza delivery figures. See the "Competition" Column? The column labeled "Competition" provides information on how competitive it is to get a high listing on Google's paid search advertisements (Google AdWords). It will show you one of three options: "Low," "Medium or "High." If there is a "High" level of competition, that means there are several companies vying for visibility in the paid advertisement results for that search query. This tells you that it must be lucrative for them to place their advertisements on that specific search query, otherwise why are so many people paying money to advertise there? If there is a "Low" level of competition, then it's probably less likely that high visibility on that search query will provide companies with new business opportunities. We see this notion in play with the picture of pizza delivery figures – though "pizza delivery" gets a boatload more traffic than "pizza delivery in Chicago," the competition level is still "Medium."
Get more keyword examples from Google search:
     Go to Google and start typing in "cosmetic dentist Atlanta GA." As you're typing this in you'll see Google trying to finish the search query for you (most appreciated, Google). Take a look at some of the other options that appear; do you think your customers are utilizing some of those suggestions? If so, throw them into your pool of keywords to research in the Google AdWords Tool.
     Perform a search on Google for "cosmetic dentist Atlanta GA" and go to the bottom of the Page 1 search results. You'll find additional keyword opportunities – toss them into your pool of keywords for the Google Keyword tool too!
Conclusion:
     People are going online to research and purchase the services and products that your business offers. These are excellent, warm lead opportunities, right? Step 1 in getting these opportunities to your digital doorstep is to figure out what exactly your target audience is typing in to find a business like yours. If you follow the recommendations of this article and take advantage of the Google Keyword Tool, you'll be able to determine what searches would be the most lucrative for your website to be highly visible on. When you have this data, be sure these words and phrases are within the content of your website, your social media profiles, and your online citations (example: if you're a wildlife removal business, you better have "Pest Control Services" and "wildlife removal" within the content and categories of your Google Local and Yelp! profiles). This way, both humans and search engines know what you offer.
     We'll cover different ways to get your website better visibility on Google in our next article. Until then, do some keyword research!