The latest response to an ongoing survey of thousands of prospective franchise buyers indicates that more are ready to buy "this month" or with the "next 3 months" than at any time YTD 2020. Perhaps not surprising given recent upticks in consumer confidence and with all the pent-up demand around re-opening the economy, 56% of respondents said they expect to start their business within 3 months. And, 16% expect to start this month.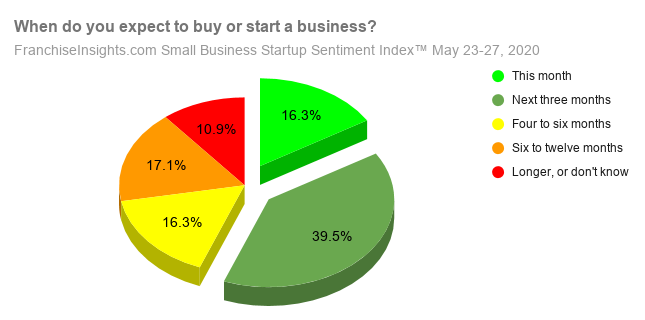 If you're thinking about owning your own franchise business, the timing doesn't get much better. Why? The economy is coming back and there are many franchise companies demonstrating exceptional resilience and adaptability in supporting their franchise owners through the pandemic. What better time to explore franchises of interest to you to see how they've handled the crisis? If they're surviving or even thriving right now, what does that say about how your business may perform in better times?
Interested in learning more about this franchise buyer survey and related information? Check it out here!