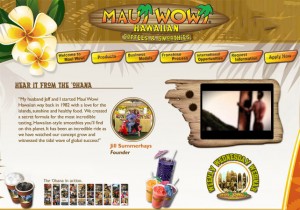 The gourmet Hawaiian coffee and fresh fruit smoothie franchise, Maui Wowi is just as busy as a scrambling parent getting iPads and Xboxes off the retail shelves!
Look at what they have been up to . . .
A New Hire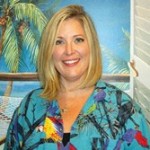 Maui Wowi names Kerri DeLaRosa as Director of Franchise Support. DeLaRosa will be supporting the brand and its franchisees by overseeing training and programs. She has more than 20 years of experience in consumer driven marketing, advertising, public relations and product innovation and has experience with the restaurant franchises: McDonalds, Red Robin, Denny's and Little Caesars.  Mike Weinberger, CEO said, Kerri "possesses many unique skills that will broaden our ability to provide unparalleled support to our current and future franchisees. Through the strength and collaboration of our entire team, Maui Wowi will continue to bring benefit to our franchise system and drive the brand forward." Congratulations to both Kerri and Maui Wowi!
Double Duty in December
The company is continuing their efforts to support veterans by bringing back their "double discount" off the franchise fee. Throughout the year, Maui Wowi offers a 10% discount off the franchise fee to anyone who has served in any branch of the military. Now until December 31, 2013, this military giveback program doubles to a 20% discount. The company is proud of the following memberships and distinctions: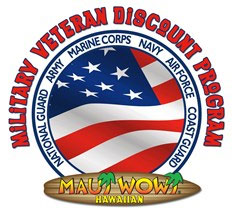 IFA Vet Fran Program
SBA's Small Business Development Program
Named a Military Friendly Franchise by G.I. Jobs for the past four years
Top 50 Franchises for Veterans by World Franchising Network
"Our double discount offers military veterans the opportunity to make their dreams a reality. This small gesture and significant savings is our way to say mahalo for their service and to make the dream of business ownership more attainable. We look forward to helping more veterans find entrepreneurial success by welcoming them into our Maui Wowi ohana (family)," said Weinberger.
Getting in the Holiday Spirit
Yum! While you are getting festive this holiday season singing to Christmas music and shopping 'til you drop, you can take time to sip Maui Wowi's flavors of the month: Peppermint Mocha and Gingerbread Latte. Maui Wowi Hawaiian is also running two other limited-time offers that include a Pumpkin Pie Latte and Maui Mountain Roast coffee available at participating locations across the country.
 About 
Since 1982, Maui Wowi Hawaiian has embraced the Hawaiian culture and has been serving paradise in a cup since the day it began, 30 years ago. From event carts, mall kiosks and stand-alone retail locations Maui Wowi Hawaiian offers premium, all-natural, gluten-free, fresh-fruit smoothies, as well as gourmet Hawaiian coffees and espresso beverages. With over 450 operating units in seven countries, Maui Wowi Hawaiian has truly gone "Global" by adding an online store. If you or someone you know is interested in starting your own Maui Wowi enterprise, please visit them at www.franchise.com.