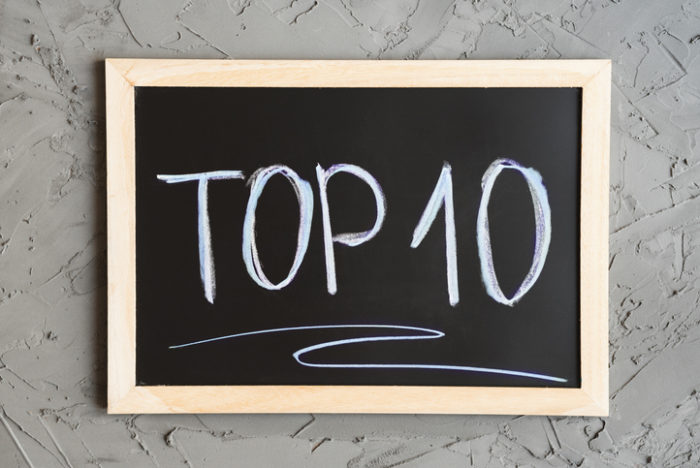 There's a reason franchise opportunities have a long and durable history in modern business—they afford franchisees out-of-the-box businesses that are ready to gain customers and bank on successful brand foundations. While no business is completely turn-key, many franchisees are able to build up a business fast and easy. That's because when you buy a franchise, more often than not, you're buying an entire business and the right to sell products and services that are globally recognized and proven to maintain lasting success.
Looking for proof? Here's a look at the top 10 franchises in the United States by the numbers.
1. Dunkin'
Total franchises: 13,000
Initial investment: $395,500 to $1.6 million
Dunkin' (formerly known as Dunkin' Donuts) has shown the world that pivoting, even on a massive scale of 13,000 total units, can be successful. Dunkin' has learned to change their business to better represent what they are – a full coffee house, breakfast joint, donut shop – and that willingness to shift has benefitted every franchise owner across the globe. The fast-food franchisor has a long history of steady growth, making it one of the top franchises in 2021.
2. Taco Bell
Total franchises: 7,000
Initial investment: $525,500 to $2.96 million
Taco Bell has seen a huge burst of growth over the past several years, making it leap from #45 to #2 Entrepreneur.com's Franchise 500 list. Consumers have grown to love the concept, appreciate the low-cost, and have etched it into a regular destination for quick meals.
3. McDonalds
Total franchises: 38,000
Initial investment: $1.3 million to $2.2 million
Perhaps the most globally recognizable fast-food chain, McDonald's has long been seen as the pioneer for modern-day fast-food franchises. That global recognition has enabled McDonalds to franchise out over 38,000 locations worldwide. If you're looking for a reliable, steady franchise to own, McDonalds might be a good choice.
4. Sonic Drive-in
Total franchises: 3,600
Initial investment: $1.2 million to $3.5 million
Sonic Drive-ins serve up a classic American experience: drive-in diners. Customers have been pulling-up to Sonic franchises to get their burgers, hotdogs, and slushes since 1959, making it one of the best franchises to own in 2021.
5. The UPS Store
Total franchises: 5,000
Initial investment: $138,400 to $470,000
A one-stop destination for all things delivery, The UPS Store franchise has become a staple for logistics and shipping throughout the world. Today, more than 5,000 locations are spread across the globe, making this a huge network of growing, dependable franchises, making it a great low cost franchise with high profit.
6. ACE Hardware
Total franchises: 5,300
Initial investment: $286,000 to $2.1 million
ACE Hardware is self-titled "The Helpful Place," and that's largely due to the franchises ability to present customers with a convenient shopping experience at reasonable costs. Depending on the size of a franchise location, the lower investment costs enable many existing hardware stores to convert to an ACE, allowing them to use the brand and exclusive supplier partnerships.
7. Planet Fitness
Total franchises: 1,900
Initial investment: $1.1 million to $4.2 million
Planet Fitness boasts it's low membership cost for an upfront, no-frills exercise experience that welcomes everyone. For $10 a month, members are able to access the facility at a fraction of its competitors' fees.
8. Jersey Mike's Subs
Total franchises: 1,600
Initial investment: $237,400 to $766,970
Jersey Mike's Subs has also seen a ton of rapid growth, mostly due to their existing franchise owners opening new locations, which really tells a lot about the success and comfort that franchisees have experienced with the business model. With it's relatively low initial investment requirement, Jersey Mike's Subs is one of the cheapest food franchises to open.
9. Culver's
Total franchises: 700
Initial investment: $1.97 million to $4.7 million
The king of cheese curds, butterburgers, and frozen custard, Culver's fast-food franchise has been powering the greater USA out of Wisconsin since they started franchising in 1988. Now there are over 700 locations, each sticking to the company's founding principles of hospitality, quality, freshness and service to the community.
10. Pizza Hut
Total franchises: 17,000
Initial investment: $357,000 to $2.2 million
While Pizza Hut has seen a number of restaurant closures in the U.S., it also added thousands of franchise locations across the globe in its international market. This really can only tell you one thing: Pizza Hut is only growing and becoming more marketable worldwide. For that, it's listed among the top 10 franchises to own.
What is the best franchise to invest in? The one that works for you and your unique needs and skillset. Not every major franchise is the right franchise for everyone, and it's important to consider how a business model connects with your lifestyle, career goals, and financial investment options. Great franchise opportunities come in all shapes and sizes – find the right one for you at Franchise.com!