What is a franchise agreement?
Simply put, a franchise agreement is the legally binding document drawn up between a franchisor (the company that owns the brand/system of doing business) and the franchisee (the person who is buying into the franchise). In order to partner with franchise organizations and own a location or license, you must sign a franchise agreement to be able to start your franchise. The importance of a franchise agreement cannot be overstated – this legal agreement is the foundation for your business relationship and what allows you to own and operate your franchise.
What are the types of franchise agreements?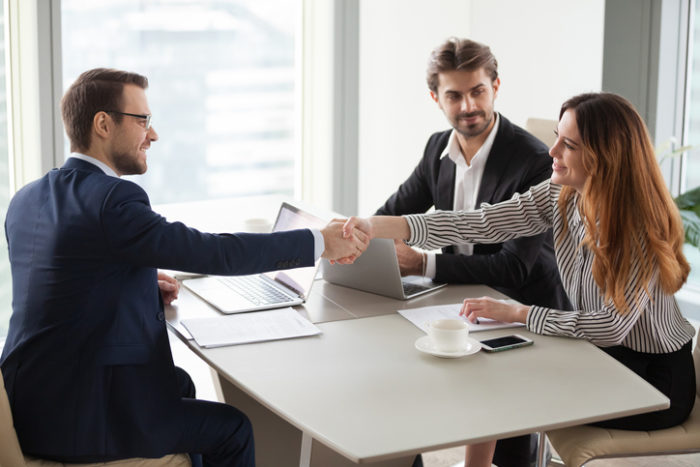 The four types of franchise agreements are:
Single Unit
This is the most common type of franchise agreement where you have the right to open and operate one franchise location.
Multi Unit
Another straightforward and common franchise agreement where the franchisee has the right to open and operate multiple franchise locations.
Area Developer
This is a more complicated type of franchise agreement where you have the right to open a specific number of franchises in a specific area during a specific time period and will most likely have the exclusive rights to develop franchises in that area.
Master Franchisor
This is a type of franchise agreement where you have the rights to sell franchises to sub-franchisees, get them trained, collect royalties and fees, etc.
What does a franchise agreement include?
The most typical franchise agreements are single and multi unit, and they will usually include variations on these clauses:
Franchise Rights and Terms – This portion spells out all the terms and conditions for the franchisee and spells out all the rights for using the intellectual property of the franchisor. Franchise rights are usually granted for a term of 10 years, but that can vary depending on the type of business and the amount of time anticipated for the franchisee to get their desired return on their initial franchise investment.
Fees and Royalties – The franchise agreement will include the initial fees that the franchisee must pay as well as any on-going fees, including royalties. Initial fees typically include the primary fee, any upfront software license fees, and any initial inventory needed to start the franchise location defined in the franchise agreement.
Training and Support – Typically franchisors will provide both an intensive initial training as well as continuing support for the franchisee. The franchise agreement will spell out all of the franchisor's responsibilities for training and support.
Site selection/development – Your franchise agreement will stipulate whether the franchisor or the franchisee is responsible for finding and developing the desired location for the franchise. The franchisor is usually the one to approve the location and make sure that the franchisee meets the brand standards before opening.
Assigned territory – Some franchises grant franchisee's exclusive or protected territory and others do not. However, no matter what, the franchise agreement will specify the territory of the franchisee and will include reservations of the franchisors rights within the franchisee's territory for things like internet sales and alternative distribution sites, as applicable.
Non-compete/Restrictive covenant – A franchise agreement may include a non-compete clause or restrictive covenants where franchisees agree that while under contract and/or after their contract, they will not establish competing businesses in order to protect the franchisor's business system.
Marketing – Most franchisors have a marketing fee that franchisees are required to pay into. Your franchise agreement will lay those requirements out and will establish if franchisees must contribute to their brand development fund or any other marketing obligations that the franchisee must meet.
Insurance requirements – Franchisors need to make sure that their brand is protected as well, and so most franchise agreements come with insurance requirements that franchisees must meet.
Record-keeping and auditing – Some franchise agreements will include the rights of the franchisor to dictate what records a franchisee must keep, the types of software that they are allowed to use, and the rights of the franchisor to audit all of that information to make sure that the franchisee is running the business competently and correctly.
Legal Rights and Jurisdiction – In case everything goes sour, your franchise agreement will typically include what jurisdiction you will be under if you go to court. Some franchise agreements mandate mediation or specific courts that the case will be opened in should the franchisor and franchisee get in a dispute.
Your franchise agreement will vary depending on the industry and type of franchise agreement that you are seeking, but these are all familiar parts of a franchise agreement. Franchise agreements are great for spelling out all the details, but can be overwhelming due to the conditions and stipulations.
How do you draft a franchise agreement?
While there are franchise agreement advantages disadvantages, one good thing about them is that many of the parts of the franchise agreement are negotiable. Another thing is that you probably won't have to come up with one on your own. Usually the franchisor will have a standard franchise agreement that they will present to you, and it is your responsibility to examine it carefully, negotiate any changes, and make sure that you have it reviewed by a franchise lawyer in order to make sure you are aware and comfortable with everything you are agreeing to.
Where can you find more information?
Check out Franchise.com for franchising information and news and to look at the lists of available franchises in your area. You can also download this blog as a pdf by clicking below to refer to as needed. Be sure to investigate our franchise FAQs to learn more about how franchising works and how it can work for you.