The franchise industry is big business in the United States and internationally. In 2019, there were nearly 775,000 franchises in the United States alone. If you've started to look into the process of becoming a franchise owner, you've likely found yourself searching online for terms like "franchise definition" or "franchise organizations definition" to keep up with the industry lingo. While there may be some jargon in the franchise industry, it's fairly simple to understand once you know what each word means and how they all connect to create profitable business opportunities for everyone involved.
Let's take a look at some common words used in the franchise industry, the importance of a franchise agreement, what the franchise relationship model is and some tips for managing the franchise relationship as a future franchisee.
What is a Franchise Business?
Let's break down what a franchise business is and discuss other common words associated with franchising.
Franchise Organization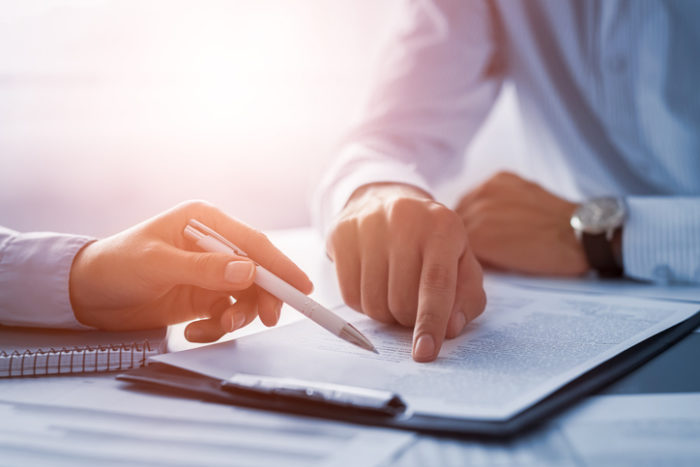 Also called a franchise business or franchise company, a franchise organization is an umbrella term used to describe a parent company that establishes a successful business model and licenses it—and the business materials—out to prospective business owners. To put it another way, these are the main, corporate offices. Exactly what does a franchise company do? Franchise organizations spend time perfecting their business model and marketing to provide a reliable and recognizable brand to entrepreneurs looking to become franchise owners. Franchise organizations are also called franchisors.
Although restaurants are what most people think of when they think about franchise organizations, these kinds of opportunities are available in nearly every industry. Well-known franchise organizations include Ace Hardware Corporation, Allstate Insurance, Grease Monkey, McDonald's, and Premier Martial Arts.
Franchise
A franchise is a license granted by a government or a business that allows for specific commercial activities, like the selling of products or services. There are many different types of licenses. Common types of franchising include:
Job franchise: Provides a business owner with a license to operate under an established brand.
Product Franchise: Provides a business owner with the license to sell a brand's product.
Business Format Franchise: What most people envision when they think of franchise, it provides a turnkey solution to entrepreneurs to open their own store.
Franchisor
A franchisor is a person or company that issues a franchise for the selling of goods or services to a prospective business owner. When issuing a franchise, franchisors provide a franchise agreement and franchise disclosure document (FDD) that outlines the terms and conditions.
Franchisee
A franchisee is a person or group of people who purchase a franchise from a franchisor to open a business. A would-be franchisee is responsible for following the franchise agreement, managing day-to-day business (or hiring employees to do so), and growing their franchise business.
Now that you can answer the question, "what is the definition of a franchise company?" it is important to understand that each of these key components makes up the franchise business model. A franchisor is the parent franchise organization. This organization issues franchise licenses to would-be franchisees to operate a business and sell the franchisor's goods or services. All of this is reliant on a document called a franchise agreement.
What is a franchise agreement?
A franchise agreement is a legal document that creates a franchise relationship between a franchisor and franchisee, and it contains legal rights and obligations for both parties. A franchise agreement seeks to answer the question "what is the structure of a franchise" so all parties involved understand their rights and responsibilities.
In other words, you can think of it like a contract that sets out the terms and conditions of the franchise. It also sets out a fee schedule that the franchisee agrees to pay. There are four main types of franchise agreements.
Single-Unit Franchise Agreement
The most common type of franchise agreement, this issues the rights and obligations regarding the establishment of the franchise to a franchisee for a single unit. Most single-unit franchise agreements are owner-operator, which means the franchisee owns and operates the franchise, rather than hiring an employee to run it. In this type of franchise agreement, franchisees are responsible for investing their own capital and using their own skills to grow the business.
Multi-Unit Franchise Agreement
More experienced business owners may be interested in a multi-unit franchise agreement, which provides a franchisee the ability to own more than one unit in a specific area. Typically, a multi-unit agreement gives a timeframe in which the franchisee expands. For example, it might ask for three units in three years. With this type of agreement, most franchisees hire managers to oversee the locations so they can focus more on growing and developing the business.
Area Development Franchise Agreement
Like a multi-unit agreement, an area development agreement allows franchisees to own and operate multiple units. However, this type of agreement gives franchisees exclusive rights to the area, meaning they will be the only franchisee operating in their market. This kind of exclusivity can be a huge benefit to entrepreneurs.
Master Franchise Agreement
A master franchise agreement is common practice when a franchisee is developing internationally or in an area that is far away. In this type of franchisee agreement, franchise businesses grant franchisees the right to a specific country, state or region—providing the franchisee full control of sales and of selling franchises to other entrepreneurs in a particular area.
What does a franchise agreement include?
So, how does a franchise agreement work? In addition to laying out what type of franchise license will be issued to the franchisee, a franchise agreement must also include a franchise disclosure document. This document must include 23 key items, as dictated by the Federal Trade Commission (FTC). The FTC also requires that franchisors must provide franchisees with these provisions at least 14 days before the document needs to be signed—or before any initial money is exchanged. The 23 sections of the franchise disclosure document are:
1. The franchisor and any parents, predecessors, or affiliates.
2. Business experience of the executive team running the franchise business.
3. Litigation and information covering pending actions, material actions or past actions against the franchise.
4. Bankruptcies involving the franchise business, its predecessors or associates.
5. Initial fees that will be charged to franchisees.
6. Other fees, including fees that have been undisclosed to this point, must be listed.
7. Estimated initial investment of the franchisee.
8. Restrictions on sources of products and services, which includes any required purchases and the relationship between the franchise business and required suppliers.
9. Franchisee's obligations to the franchise business.
10. Financing arrangements.
11. Ongoing assistance the franchise business supplies.
12. Territory restrictions, if they exist.
13. Trademarks registered to the franchise business.
14. Patents, copyrights and proprietary information disclosures.
15. Obligation to participate in the operation of the franchise business, or not.
16. Restrictions on what may be sold.
17. Renewal, transfer, termination and dispute resolutions.
18. Public figures whose names may be associated with the franchise.
19. Financial performance representations, or an optional estimate of potential performance.
20. Outlets and franchise information of company-owned outlets and franchised outlets for the last three years.
22. Financial statements provided by the franchisor.
23. Contracts where the franchisor lays out the franchise agreement.
24. Receipt disclosures provided to the franchisee.
The importance of a franchise agreement cannot be understated. Would-be franchisees should know that franchise agreements are negotiable, but the negotiations are often limited in nature. This is because franchisors must maintain uniformity within its franchise business. Here are some best practices to follow before signing on the dotted line:
Review the franchise agreement with a lawyer.
Know what territory you're being provided and if they are exclusive rights.
Understand the difference between words like "may" and "shall" to understand what the franchisor must provide and what they might provide.
What is the franchise relationship model?
Once the franchisor and franchisee sign the franchise agreement, they enter into a franchise relationship. A franchise relationship is a commercial, contractual relationship between all parties. This relationship is the foundation for a successful business, and a poor relationship can spell trouble for both the franchisor and the franchisee.
To put it simply, the franchise relationship model is built upon the terms of the franchise agreement and should include clear responsibilities, transparent financing and periodic evaluation. A franchisor grants the rights to run one or more business units to a franchisee in return for an initial fee and regularly outlined monthly, quarterly or fees. To help support the franchisee, the franchisor provides varying levels of support, including:
Training for the franchisee and any other employees
Equipment, materials and, maintenance
Marketing strategy and materials for local and corporate marketing
Technology access and licenses, as needed
But how does a franchise relationship work in practice? Properly managing a franchise relationship requires that everyone involved understands their responsibilities and holds up their end of the franchise agreement.
Role of the Franchisor
Establish and maintain a successful franchise business model, including focusing on business expansion and brand reputation
Identify regional growth opportunities and long-term business direction for franchisees
Maintain commitments and ensure franchise agreements remain fair and uniform
Provide the tools, training, and resources to help franchisees be successful
Provide ongoing training and technical support
Role of the Franchisee
Follow the system put in place by the franchisor in the franchise agreement
Manage the business location's daily operations and ensure profitable growth
Seek out resources at the franchise organization level to better equip their team
Protect the brand's image by ensuring high-quality customer service and marketing
Assume a leadership role and establish a loyal customer base
Maintain honest, open communication with the franchisor
What are the key factors in the franchise relationship?
Communication
Like most relationships, the franchise relationship will only work with strong, open lines of communication. Both the franchisor and franchisee should maintain regular, honest communication about goals, successes, and pitfalls.
Trust
One of the best ways to resolve conflict—or head it off at the pass—is by ensuring trust between both parties. Both franchisor and franchisee should trust the other to maintain good business practices.
Investment
In a franchise relationship, both parties must have vested interest. For the franchisee, that's often based on initial starting fees and monthly payments. For the franchisors, that means they are investing in the franchisee to create a successful business.
Support
This is primarily the role of the franchisor, as they should provide the necessary support for the franchisee to be successful. However, the franchisee must be willing to ask for support when it's needed.
Collaboration
Franchises are done best when the franchisor and franchisee collaborate. The franchisor knows and understands their business—they're experts at their business model. But franchisees are a direct line to customers and can identify how branding decisions impact day-to-day operations, and ultimately the bottom line. Both parties have knowledge to bring to the table.
How can a franchise relationship be improved?
If your franchise relationship is lacking any of the key factors above, working to improve the relationship should be a top priority. While the franchise industry is expected to remain strong in the coming years, improving a poor relationship can help ensure a healthy business.
Communication is often the number one way to improve a relationship. Seamless communication between a franchisor and franchisee is the hallmark of a good franchise relationship. If either party is struggling, scheduling regular check-ins should be the first step.
Building connections can help the franchise relationship by helping franchisees better understand the business, the culture and the company. Franchisors should connect franchisees with other, successful franchisees to develop connections and relationships. Once they're established, everyone will feel more connected as a team working toward a common goal.
Gathering input and putting a deeper emphasis on collaboration can help repair or improve franchise relationships. If a franchisee feels empowered to share their insights, they'll be more willing to provide valuable feedback to the franchisor.
Franchise relationships are a unique situation, and they require consistent effort to remain positive and beneficial for all parties. These positive relationships are the building blocks of a successful business, which means happy and loyal clients and customers in the long run.
Connect with Franchise Organizations at Franchise.com
Franchise.com offers would-be franchisees the opportunity to research and connect with hundreds of franchise businesses. We offer powerful search tools that can match you with the franchise or business opportunity that fits your budget, industry, location, and desired level of interaction. Franchise.com also provides information on how to finance a franchise to help entrepreneurs achieve their dream of owning a small business. Explore popular franchise opportunities today.