The importance of franchising can't be overstated. It offers the flexibility of owning your own business with the stability of a nationwide company with a network of units. This is why you should start a franchise today, though before you submit a franchising application, you'll need to understand the following important concepts.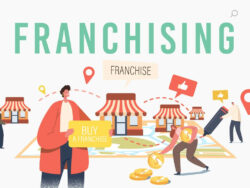 Franchise
What exactly is a franchise? A franchise is a business model in which a company licenses its operations to a local operator. This arrangement allows the franchising company to enter into new geographic territories and offers local entrepreneurs a fast track to business ownership.
Franchisor and Franchisee
The "franchisor" refers to the parent organization in a franchising arrangement, while the "franchisee" refers to the local franchise operator. In this business model, the franchisor licenses their products, branding, knowledge, operating systems, and marketing materials to the franchisee for a franchising fee.
Franchising Fee
Before you can open a franchise, you'll need to pay a franchising fee to the franchisor. This fee can vary by the franchising organization and what things are covered. Don't neglect the importance of franchising fees, as they dramatically impact your startup budget.
Franchise Agreement
Your franchise agreement is the contract you sign with the franchisor. The agreement will cover the terms and conditions of the arrangement and specify your responsibilities and the benefits that the franchisor will provide.
The franchise agreement can also establish time limits for franchise ownership, with or without options for contract renewal. If you want to operate a franchise long-term, you'll need to read these terms carefully.
Franchising Rule
The Federal Trade Commission (FTC) has established a franchising rule to protect potential franchise owners and ensure you know what you're getting into before committing to a long-term contract.
The franchise rule requires that the franchisor prepares an extensive disclosure document and provides it to the franchisee before signing the franchise agreement. This document should cover business operations, fees, and other crucial information about the business.
Royalties
One of the reasons why you should start a franchise is that you'll gain the franchisor's support, but that also means you'll need to pay them a monthly fee. These royalty fees can either be a flat rate or a percentage of your gross income.
It's important to determine what the company expects in terms of regular monthly fees, as this can dramatically influence your operating budget and cash flow.
Brand and Trademarks
The company's "brand" refers to the business name, logo, and all materials that reflect the company's fundamental identity. The franchisee will represent this brand at their store or restaurant location, but it's essential to understand how trademarks restrict your operating methods.
Discovery Day
Before becoming a franchisee, you'll need to undergo a rather extensive interview process. During this process, the franchisor will evaluate your industry experience, financial history, and reasons for wanting to operate a franchise.
But this process also involves a "discovery day." Discovery Day is a day that qualified potential franchisees visit headquarters to meet the team and continue their exploration of partnering with the company. This day allows you to get a better picture of how the business operates and your responsibilities within the organization.
While the interview helps the franchisor decide whether you're right for the business, the discovery day helps you decide whether the business is right for you.
Territory
Franchises operate within a specific geographic area or "territory." What is the importance of franchising in a specific territory? You'll need to understand how other competing businesses can impact your day-to-day operations and profits.
Additionally, if there are other franchise locations in your area, you may need to know the boundaries of your respective territories and how to work harmoniously.
Restrictions
Restrictions represent the terms and conditions of working with a particular franchising company. The franchising agreement typically spells out these restrictions, but the franchising rule also stipulates that the company must explain them in their disclosure documents.
Common restrictions relate to how the franchisee can operate within their geographic territory and avoid competing with other franchises from the same parent organization.
Other restrictions relate to the use of the company's brand. This includes how to market your business and how you'll conduct your day-to-day operations.

Find a Franchise that's Right for You
Learn more about why you should start a franchise by exploring the Franchise.com website. You can start by using the locator tool to identify franchise locations near you.
But if you're new to franchising, you can also explore additional articles and resources that will help you get the most from your business. Start today, and see where these opportunities can lead you.