Franchise.com client,
National Property Inspections, Inc. (NPI)
held its annual conference last month in Omaha, NE and handed out 43 awards to top performers and honored five additional franchise owners. "We have outstanding franchisees, and these awards are our way of recognizing our top performers in various markets," said Roland Bates, president of National Property Inspections, Inc. "Our franchisees did more business collectively this year than any year in the past. They have worked extremely hard to build their businesses, and every award winner is most deserving of their award." Award recipients were recognized in five categories:
Platinum Award
President's Club
Pinnacle Award
Pacesetter Award
Ambassador Award
The first four categories, Platinum, President's Club, Pinnacle and Pacesetter awards are based on the franchise owner's reported earnings and percentage of growth from the previous year, the size and location of the franchise market and the length of time the franchise has been in operation.
Platinum Award Recipients
John Braddock, Castle Rock, Colorado Steve Anderson, Goodyear, Arizona
President's Club Recipients
Rich Buhrman, Hedgesville, West Virginia; Eldon Holliday, Olive Branch, Mississippi; Gerry and Susan Millen, Regina, Saskatchewan; Ron Schenck, Kennewick, Washington; Rodney Twyford, San Antonio, Texas; David Riley, Savannah, Georgia; and Chris Marshall, Doylestown, Pennsylvania; Andy Hasler, Camarillo, California; Scott Cowan, Oakley, Utah; Greg Mathias, Lloydminster, Alberta; Cam Ralston, Grand Prairie, Alberta; Matt Tracy, Doylestown, Pennsylvania; Jim and Susan Giuffre, Ocean Isle Beach, North Carolina; Wes and Crystal Grant, Indian Trail, North Carolina; Ron and Kate Griffith, Clinton, Connecticut; and David Perrin, Roanoke, Virginia.
Pinnacle Award Recipients
Jason Bancroft, Gilbertsville, Pennsylvania; Lawrence and Kathy Englehart, Dartmouth, Nova Scotia; Todd Newhook, Markham, Ontario; Tom and Carrie Trotter, Troy, Ohio; Doug Versaw and Margaret Herrera, Golden, Colorado; Tim Williams, Lynn Haven, Florida; John Nelson, Manassas, Virginia; Brett Freebody, Carle Place, New York; Mark and Trasi Crowley, Bettendorf, Iowa; Andy Smith and Daryle Wilken, Omaha, Nebraska; Terry Haynie, Indian Springs, Ohio; Stephan Quigley, Forest Hill, Maryland; Ed Lannon, Miramar Beach, Florida; Charlie Panellino, Smithtown, New York; George Gould, St. Charles, Missouri; Ron Pronchuk, London, Ontario; Tim Forest, Sylvan Lake, Alberta; Greg Eckert, Amelia, Ohio; Steve and Lynn Gregory, Floyd, Virginia; Pat Standefer, Richardson, Texas; and Chae Bybee, Sheridan, Wyoming
Pacesetter Award Recipient
Max Cheang, Cumming, Georgia
Ambassador Award Recipients
The following award recipients received the ambassador award for consistently demonstrating goodwill toward their fellow franchisees by offering field training; mentoring and business advice and they have often helped recruit or onboard new franchise owners.
Sean Green, Flower Mound, Texas
Tony Marino, Clearwater, Florida
Pete Lauterer, Denver, North Carolina
NPI/GPI Hall of Fame Recipients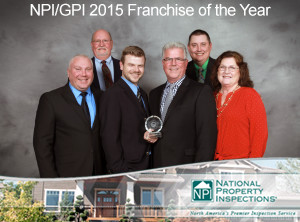 NPI inducted four franchise owners into the company's Hall of Fame this year who have owned their franchise for 15 years or more, have won multiple NPI/GPI annual awards and have operated their business ethically and with immense integrity.
Robert and Heather Gould, St. Charles, Missouri
John Fast, Chattaroy, Washington
Tracy Murphy, Great Falls, Montana
Thom Bowyer, Kentwood, Michigan
NPI/GPI Franchise of the Year
Bob McDonough, Atlanta, GA
About National Property Inspections, Inc.
National Property Inspections, Inc. is one of the oldest and most respected names in the home and commercial inspection business. They operate as National Property Inspections in the United States and as Global Property Inspections (GPI) in Canada. NPI provides services to a wide variety of clients, including home buyers and sellers; commercial property investors, owners and tenants; real estate agents and attorneys; employee relocation companies; banks; and field service companies. No matter what type of inspection a client is looking for, NPI offers the services our clients need through our highly trained and experienced home inspectors and commercial building inspectors. NPI also offers franchise opportunities throughout the United States and Canada to become a home and commercial building inspector.
Franchise.com
congratulates all the NPI/GPI franchisees for their achievements. For information about the NPI opportunity and to learn about becoming a NPI franchise owner,
tap here
.