Franchise businesses are great opportunities for individuals to invest in owning their own business while having stability and support to back them. But before buying into a franchise, you likely have some questions and concerns that you need answered. If you're here, you're probably wondering "What is a franchise and give an example?" We've got you covered. In this post, we're going to answer both of those questions and help you find the best examples of each type of franchise so you can make the best-educated decision moving forward.
Basic Franchise Definition
You might be asking "What is a franchise in simple terms?" Put simply, a franchise is a business that establishes a brand and business model, then licenses the business and material out to franchisees, people who buy into the franchise. Franchisees own and operate the business under the franchisor's business plan.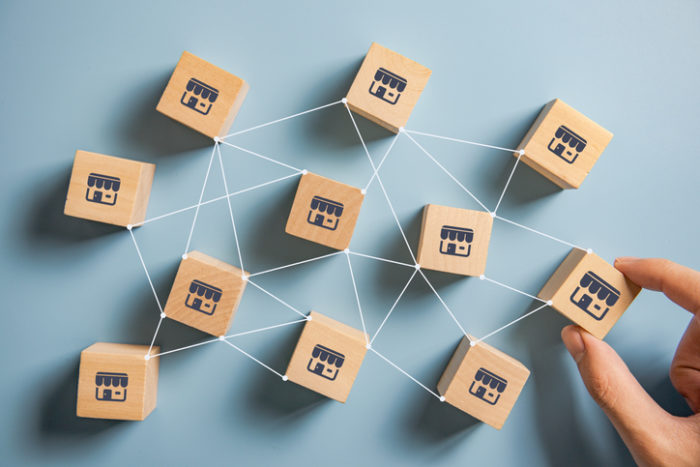 There are five types of franchises: job/service franchises, product franchises, business format franchises, investment franchises, and conversion franchises. Any franchise you'll find will fit into one of these categories. Click here to read more about these types of franchises and how they're categorized.
Now let's dive into examples of these types of franchises.
Five Franchise Examples
Now that you know what a franchise is, you might be wondering "What are some examples of franchises?" We will show you five examples of franchises, one under each franchise category.
Job/service franchise examples
A service franchise, otherwise known as a job franchise, is a skills-based franchise that doesn't need a brick and mortar location and has five employees or less. These types of franchises are best for entrepreneurs who want a low-cost, work from home franchise environment. A common service franchise example is Bloomin' Blinds.
Bloomin' Blinds is a low-investment, home-based, high profit franchise that doesn't require a lot of employees. They offer window treatment sales, installation, and repair. Owners of this franchise can also add additional streams of revenue, like blind cleaning, window washing, solar screens, and exterior/patio screens. Every day is different when working with Bloomin' Blinds and the short term projects provide immediate gratification.
The financial investment to own a Bloomin' Blinds franchise involves a cash requirement of $50,000 with a total investment ranging between $40,000 and $75,000. Bloomin' Blinds provides the franchisee with marketing tools, advanced training, and friendly business culture, including:
Intensive, hands on training for two weeks in Dallas, TX with the company founders.
Unlimited follow up, support, and training once after the two week training.
A learning Management System filled with training materials and recap.
A detailed marketing plan and vendors are already established.
Localized website built for targeted areas.
Localized and National SEO programs.
Nearly 24/7 phone, email, chat, video conference support with the founders of the company.
Continual marketing creation, product research, and education.
Pricing discounts, perks, trips, and cash rebates.
Marketing assistance so owners get the best ROI from their money spent.
Other job/service franchise examples include:
Product Franchise Examples
A product franchise is similar to a job franchise. Product franchises focus on providing entrepreneurs with the opportunity to sell a franchisor's products or services, but without a lot of overhead or large retail operations.
An example of a product franchise is Mobility Plus. They provide mobility products like electric scooters, power wheelchairs, auto scooter lifts, stairlifts, portable and fixed ramps, and threshold ramps. With this franchise, you don't need to buy or store inventory. Franchisees can order what they need, when they need it, directly from Mobility Plus, which delivers directly to customers. To get started with a Mobility Plus franchise $50,000 cash is required with a total investment of $149,700-$168,000.
Mobility Plus provides the franchisee with advantages like:
Stable foundation and 10+ years in business.
Training at the Mobility Plus Corporate office.
Repeat business available through a government contract.
Buying directly from the manufacturer, resulting in the lowest prices.
Strong cash flow and revenue stream.
A mobility showroom that establishes the franchisee as the local provider.
A mobility van that will assist in service and deliveries of products.
SBA Express Financing is available to qualified candidates.
Other product franchises and business opportunities include:
Passive CBD Vending: $25,000 cash required with a $25,000 – $75,000 total investment
Your CBD Store: $50,000 cash required with with a $80,000 – $100,000 total investment
Business Format Franchise Examples
In a franchise business, franchisors grant franchisees with a license to operate a business with the franchisor's established brand and complete business model.
An example of a business format franchise is Frutta Bowls. Frutta Bowls is a cafe that serves high quality, healthy, and delicious acai bowls and believes in community and wellness. The total investment to open a Frutta Bowls cafe ranges between $162,700 and $384,892. Prospective franchise owners are asked to have a minimum $250,000 net worth and $100,00 in liquid assets. When becoming a franchisee, a team will provide support in real estate, construction and design, training, marketing, and ongoing support at all levels.
When buying into the Frutta Bowls franchise, franchisees will receive everything from:
Real Estate: Frutta Bowls has an in-house real estate team that will assist the franchisee in market analytics, research and negotiation support for their location.
Architecture and Construction: A construction team will work side by side with the franchisee throughout the design and construction process. From analyzing the design of the space, reviewing bids, and assisting all parties throughout the build out stage.
Training: Frutta Bowls has created intensive training programs to ensure success. Their training programs are a combination of classroom style learning and hands-on training to ensure success for each location.
Store Launch: The Frutta Bowls team supports the franchisee during their grand opening.
Marketing: A marketing team ensures the Frutta Bowls brand continues to grow and thrive as well as giving the franchisee the tools and best practices to grow their locations.
Field and Ongoing Support: The franchisee will have a dedicated business coach for support. The Frutta Bowls team will provide operational best practices, research and development and ongoing negotiated cost savings through vendors.
Other business format franchises include:
Investment Franchise Examples
An investment franchise is similar to a business format franchise, but requires a lot more from their franchisees. Many businesses operating in the investment franchise have a very high startup cost and require significant upfront investment compared to other franchise opportunities. The franchisee is usually an investor who provides the money and management team to the business.
Choice Hotels® International is a great example of an investment franchise. When a franchisee becomes a Choice Hotels® partner, they will be in business with a leader in the hospitality industry that has 80+ years of experience. With Choice Hotels®, you can capitalize on short- and long-term investment opportunities, and gain access to a wealth of resources and experience in the hospitality industry. Invest in a brand that attracts the essential and early travelers of today—and sets you up for success with the leisure travelers of the future. Prospective franchise owners are required to have at least $1,000,000 in cash.
The benefits of owning a Choice Hotel® include:
More resources starting from day one: A Choice Hotels® franchisee can tap into decades of knowledge and expertise that will teach them the secrets of running top-performing hotels.
The benefits of a strong brand: There are more than 7,000 Choice Hotels® franchises around the world. The robust network of locations ensures that wherever guests' travels take them, our hotels are there to meet their needs.
Being among a well-segmented and represented brand: Choice Hotels® brands are well-segmented and are represented in the economy, midscale, upscale and extended stay markets. One standout segment has been the extended stay brands that offer lodging options to longer-staying guests. This segment has outperformed others and delivered strong revenue numbers during the COVID-19 crisis.
Digital assets that help drive revenue: Driving a total of 164 million visits and $1.07 billion in revenue in 2019, Choice Hotels® offers franchisees individual property pages for travelers to book directly. This Captures digitally-savvy and on-the-go guests. Their mobile app had over 1.2 million downloads and secured more than 6 million hotel bookings in 2019.
A loyal customer base: The award-winning Choice Privileges® loyalty program has more than 45 million members that Choice engages through email communications and exclusive promotions. These strategic initiatives help drive bookings, improve brand engagement, encourage members to earn Gold/Platinum status by booking repeat stays, and more.
Other investment franchises include:
Expedia Cruises: $100,000 cash required and $169,950 – $299,650 total investment
Conversion Franchise Examples
A conversion franchise is a type of hybrid franchise. An independent company with a foundation and clientele enters into a relationship with another existing company and converts it into a franchise unit. The franchisee adopts the parent company's trademarks, marketing and advertising programs, training system, and client service protocols.
Ace Hardware is a perfect example of a conversion franchise. Ace franchisees have the opportunity to convert from privately-owned hardware stores to shareholders within Ace Hardware. Since being founded in 1924 and franchising since 1976, Ace is America's neighborhood hardware retailer.
Recognized as a leader in the booming $358 billion home improvement industry, Ace offers a tremendous opportunity for business owners or entrepreneurs who want to build a profitable and lasting business. To buy a franchise with Ace Hardware, a franchisee needs to have at least $250,000 in liquid capital and a minimum net worth of $400,000. Franchisees can expect to make a total investment of $650,000 – $1,100,000.
The benefits of owning or converting to an Ace Hardware include:
New store incentives.
No royalty fees and a portion of the company profits are distributed back to the retail owners each year.
Independent ownership with dedicated training & support.
Flexible product mix that can be customized to your local market.
Recommended core Ace product mix based on 25 years of point-of-sale data.
Solid foundation and fad proof future.
Globally recognized and locally embraced brand.
What are the top 10 franchises with Franchise.com?
After reviewing examples of the different types of franchises, you might be wondering what the top ten franchises are. At Franchise.com, we specialize in high quality, successful franchises and business opportunities. In no particular order, here are Franchise.com's top 10 franchises:
Buying into a franchise can come with so many rewards. Understanding the types of franchises can help entrepreneurs make the best decision possible when forming their business investment.
Franchise.com can help you find the best franchise for you
Franchise.com has become the industry's trusted leader in franchise business since 1995. They were one of the world's first franchise recruitment websites. We provide franchisees with tools to explore their options for franchise businesses plus educational resources to grow and thrive. We are dedicated to helping individuals from all walks of life find freedom and success with the franchise business model.
As you search for the right franchise or business opportunity, you can find confidence in our powerful network and search tools that will support you while moving forward in your franchise adventure. Click here to explore our franchise resource library for more information.