As the country experiences the effects of the most contagious virus in more than a decade and one which caused a major upset in the economy, many franchises are adapting to a new way of doing business. Some companies are offering new services or products altogether. For example, some beer and wine distributors, liquor distilleries, and car manufacturers changed their assembly lines to produce hand sanitizer and protective wear.
Franchises are Adapting
The survival instinct is promoting innovative ideas and collaboration. As a result, this crisis has forced employers to look at things in a new way and reshape their internal structure; moving staff to other departments to save them from unemployment. Furthermore, companies offer free shipping methods and food franchises rally to feed first responders and health care workers by delivering food or offering takeout or curbside pickup.
Change to ensure safety and more flexibility in the workplace is essential. Since stay at home orders were introduced throughout the country in March of 2020, more employees are working online remotely or from home.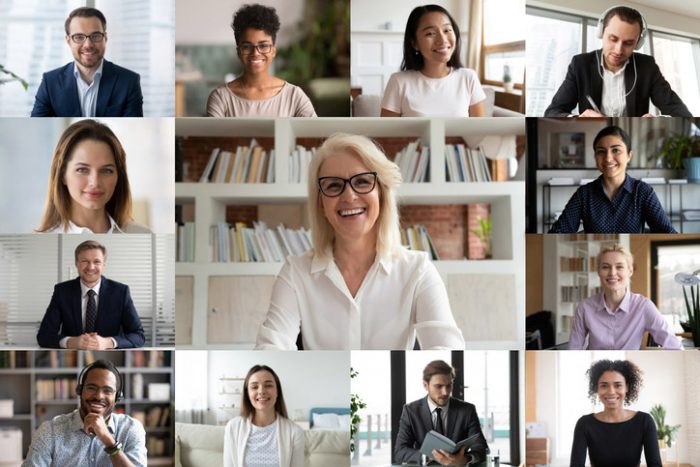 Positive Changes
Although COVID-19 is a major disruption to life everywhere, some positive changes for franchised business can be seen:
More people working from home means saving money on workspaces and rent.
There are fewer people commuting which saves time and has a positive impact on the environment.
The healthcare industry has instituted virtual visits and chatbots making care more accessible and allowing patients to stay at home.
Companies thriving during the pandemic are able to make generous donations, and we are seeing what is wonderful about the human spirit in the form of charitable giving.
Several franchises hold daily system-wide videos to encourage and update franchisees.
Educational franchises have created on-line classes for children learning at home.
Many fitness brands are providing live-streaming workouts so members can still "attend" classes and get or stay in shape.
For the very first time, franchise industry tradeshows are being held online. Instead of exhibitor booths set up in expo centers, opportunities are being promoted and shared virtually through live video feeds, recorded videos, and text chats.
This new reality focuses on a flexible work environment and demonstrates how resilient and resourceful people can be. In this changing economic climate, those who want to stay relevant are learning new skills and taking on responsibilities outside their wheelhouse.
Franchises are Adapting and Rising to the Occasion
Franchises recognize the financial impact and struggle households are feeling. Therefore, franchises are trying to ease the pain by offering discounts to defray the cost of its franchise. Additionally, franchise teams are reaching out to help their communities in a meaningful way. Read on to learn about some specific examples:
Men In Kilts, an exterior cleaning franchise, is offering a discount program with discounts valued at $15,000 to help first responders, doctors, nurses, veterans to purchase their own franchise.
Paul Davis Restoration is limiting the spread of COVID-19 by offering their disinfecting services and personal protective equipment to clients.
The Domino's franchise system has responded rapidly to COVID-19 across all aspects of its operations. They provide a safe, contactless delivery and carryout experience for customers. And they provide franchisees and stores with tools to remain operationally and financially healthy.
Taco Bell and KFC
Taco Bell and KFC announced that they would equip all restaurants with contactless thermometers, among other supplies so that employees will have their temperatures checked before their shifts.
Planet Fitness
Planet Fitness launched a United We Move campaign and has been offering users live online "work-in" fitness classes.
Hand & Stone has been communicating on a weekly basis with franchisees to discuss the "market by market, county by county" approach to reopening franchised locations.
Restoration 1®, a restoration franchise, introduced its "Keep It Clean" program to address the growing demand for disinfecting and cleaning services as cities and states across the country reopen.
Many FASTSIGNS centers have reconfigured equipment and found ways to create clear face shields and other PPE items.
Individual Ace Hardware franchise locations have gotten creative to acquire surgical masks, N95 masks, reusable face shields, and hand sanitizer and have distributed them to those in need in their communities.
Little Caesars continues to offer no-contact options to keep communities safe with online delivery, online pickup, and drive-thru and pick up windows. The pizza franchise is also donating and delivering 1 MILLION pizzas to healthcare workers and first responders across the country. To show their appreciation for first responders, Little Caesars is extending its franchise program. First Responders will receive a discounted franchise fee as well as an equipment and first order discount. In addition, they will receive corporate communication support, a free grand opening kit, and more.
On National Nurses Day, Dunkin' Donuts offered healthcare workers a free donut and coffee as a way to show their appreciation. Dunkin' Brands has also been donating gift cards and coffee to hospitals in the region surrounding its headquarters.
Franchise Support is Paramount
One of the biggest benefits of joining a franchise system is the support franchise owners receive. Franchises are adapting and helping their network and customers adjust to a new normal. Now more than ever, franchise support is vital to sustaining the ongoing tasks to meet state regulations and to bounce back into business.