Adjusting to new routines, facing uncertainty, watching unemployment rates soaring quickly and industries collapsing – we think it's safe to say that the COVID-19 pandemic hasn't treated the world of entrepreneurship nicely. However, in this article, we focus on the positive and the opportunities that a global crisis can spark in resilient and creative individuals with an innovation-oriented mindset.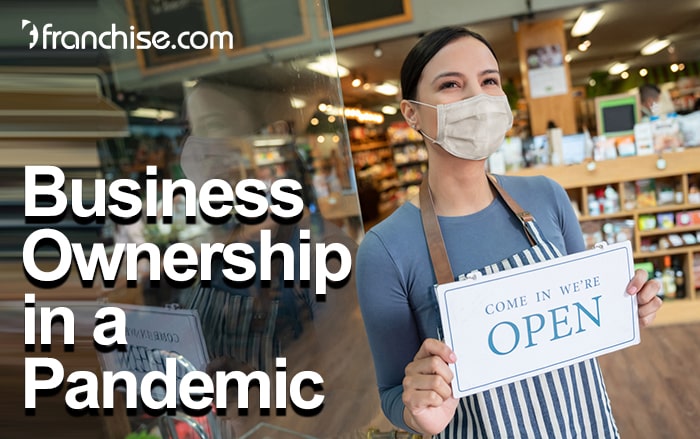 If you were considering opening a franchise these days, you're not the only one. History teaches us that economic downturns have been prolific times for franchising, as this type of business comes with the benefit of a proven system and an established brand name – hence it's less likely to fail. Let's dive a bit into the COVID-proof franchise options that will whet your appetite for business:
Cleaning Franchises for a Pandemic
The pandemic has drastically changed the cleaning and disinfecting standards, causing a growth boom in the commercial cleaning industry. Therefore, it would be an excellent idea to invest in a cleaning and maintenance franchise during the coronavirus pandemic, as the improved standards of cleanliness are most likely here to stay in the post-covid world as well. Check out the options brought to you by Franchise.com:
1. Coverall Health Based Cleaning System is a leading franchised brand in the commercial cleaning industry, and one of the most respected franchisors of professional office cleaning companies focused on killing germs, removing soil, and creating sanitary work environments. It currently supports more than 8.000 businesses in 90 markets across the United States and Internationally.
Total investment: $16,508 – $51,465, Liquid capital: $4,000
2. Chem-Dry is the largest carpet and upholstery cleaning franchise, with over 3,000 units in more than 55 countries, and ranked by Entrepreneur as America's number 1 Carpet Cleaning Franchise for 31 years.
Total investment: $67,645 – $185,757, Liquid Capital: $50,000
Retail & Food-Related Franchises Adapting in the Pandemic
The coronavirus's global response has fundamentally changed the reality for a lot of industries, retail especially facing unprecedented spikes in demand. It's too early to tell how the post-covid world will look, but the retail and food-related franchises suggested below come with the benefit of proven systems and have been profitable during the crisis.
1. Macadoodles
The pandemic brought the nightlife fun into the comfort of our own homes, and people are getting creative with small house parties. This is why your community will certainly appreciate your initiative to open up a Macadoodles store in their proximity.
The original Macadoodles store opened in 1997, and since then, it has been all about beer, excellent wines, and friendly service that will remind your customers about those charismatic bartenders. Each Macadoodles Wine Cellar has over 4,000 labels of wine from all around the world and comes with a wine-tasting bar. The Beer Room has over 600 sorts of beer – not to mention the fine liquors such as Bourbon, Brandy, Cognac, Gin, Rum, Tequila, and everything you could ever imagine. Moreover, you don't need to be a retail expert to generate success with a Macadoodle store, as they provide you with a system of training and support.
Total investment: $900,000 – $2,500,000, Liquid Capital: $300,000
2. SaladWorks
As more and more people embrace the healthy-living movement, a Saladworks location in your community can come in-handy. Saladworks is the first and largest fresh-tossed salad franchise concept and has 100+ locations in the US. They serve an impressive menu of delicious salads accompanied by signature dressings, averaging less than 300 calories. Moreover, they provide future owners with training and support to ensure a good start.
Total investment: $210,607 – $534,084, liquid capital: $100,000
Education Franchises Essential during the Pandemic
The educational system is very volatile these days, but parents will still want their children to get the best education. A franchise in this field doesn't only allow you to run a successful business but also to improve the lives of children, teens, and parents alike.
1. Tutor Doctor
The private tutoring industry is a multi-billion dollar one, and Tutor Doctor has earned its place of honor. The franchise is experiencing one of the fastest-growing international expansions, with over 500 locations worldwide and helping over 200,000 people reach their academic goals. Their philosophy is based on the idea that every child can learn, but not every child learns the same way – integrating personalization into education instead of sticking to outdated methodologies. Tutor Doctor has been ranked the number one at-home tutoring franchise worldwide by Entrepreneur Magazine. The business model is perfectly adapted to the current global climate, providing online classes and prioritizing flexibility.
Total investment: $62,500 – $100,700, liquid capital: $60,000
Conclusion
The current economic downturn provides an opportunity for entrepreneurs to capitalize on the coronavirus pandemic changes. Opening a franchise can be a great idea, as you get the chance to build on the established reputation of a well-known brand, flexibility, and the possibility to develop your business at your pace. If you consider buying a franchise, check out this continually-growing list of covid-friendly franchises.