If you're contemplating becoming a business owner, you may want to explore the franchise categories catching the eyes of other fellow entrepreneurs as well.
The data in this post is collected by Franchise Insights which compiles information on evolving trends, financial searches, demographics and pre-purchase behaviors from people like you who are seeking business ownership opportunities.
Trending Franchise Categories
August 2020 saw an increase in interest in six categories. The most inquires were made to franchises and businesses in the financial services category showing an increase of 55.9%. "…last month's growth was driven almost entirely by tax services, as more tax franchises started actively recruiting for next year's tax season."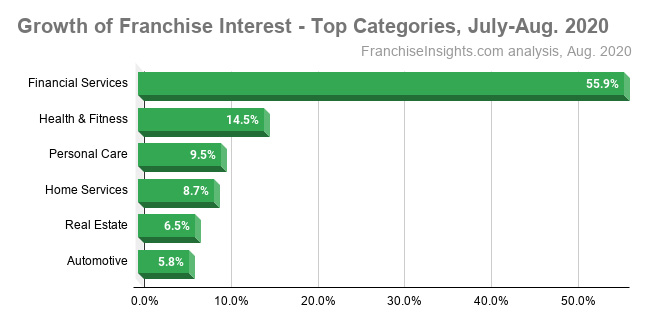 In addition to tax preparation franchises, the financial services category includes opportunities in the following fields: accounting, auditing, billing, business management consulting, collections, estate planning, insurance, mortgage services, lending, and payroll.
Other franchise categories attracting attention are:
Want to explore more franchise opportunities? Visit all the listings on www.franchise.com.
About Franchise Insights
Franchise Insights provides data analysis to help the franchise industry understand and meet the needs of budding entrepreneurs who want to own their own businesses.
Franchise Insights is powered by Franchise Ventures, a collection of industry-leading brands that connect buyers and sellers of franchises and small businesses through a diverse set of properties and channels.
Its franchise lead-generation brands include Franchise.com, Franchise Solutions, Franchise Gator, Franchise Opportunities, Franchise For Sale, and BusinessBroker.net. Together they provide the largest aggregation of prospective franchise buyers in the U.S.