When searching for a business for sale, it's important to know just how much additional work it will take to get it running optimally. Will you need to develop the next product line? Will you need to settle disputes between the current manager and employees? Does the business have a well-established, positive brand image? Depending on the answers to these questions, you're investing a lot more than just your money. You're also putting in a lot of extra time and taking on more risk than you need to.
On the other hand, turnkey businesses—especially franchises—are ready for you to step in and take charge. So what exactly is a turnkey business, and how do you find the best ones to invest in? We've got those answers and more.
How Does a Turnkey Business Work?
A turnkey business solution is a system that can be easily replicated by a new owner. In essence, these types of business systems should be as straightforward to run as "turning a key" and opening the front door. Turnkey businesses are an attractive investment for many aspiring owners because they already have the following established: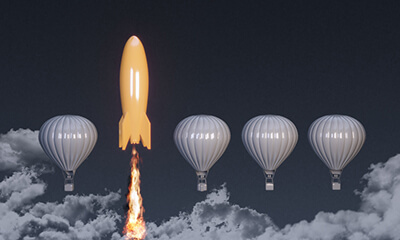 Product and service offerings
Manufacturing
Marketing and branding
Business model
For a better understanding of how a turnkey business works and what the benefits are, let's take a look at franchises. When you buy into a franchise as a franchisee, you are taking on a proven business model. You don't need to invent your own products, sort out your value chain, or develop your own branding.
If you open a Minuteman Press, for example, you wouldn't need to figure out which combination of printer, ink, and paper thickness makes the highest quality brochures. Minuteman Press' in-depth training program assumes you don't have any experience in the printing industry or running a business, and they provide the knowledge you need. In other words, it's a great "turnkey" business for both first-time and experienced owners.
How Do I Start a Turnkey Business?
The most straightforward way to start a turnkey business is to purchase a business that is currently operating and earning your desired revenue and/or profit. When purchasing an established business, it's important to review financial records and confirm that managers and employees are working well together. You also want to ensure that any necessary equipment is in good shape.
In some cases, your turnkey solution may not be an already established business, but a proven business model. This can happen when exploring franchises as an investment option. Some franchise locations will already be set up and running, while others will require you to set up the physical location and then implement the franchise's turnkey business plan.
Many franchisors, like Bruster's Real Ice Cream, provide guidance for franchisees that will be setting up a new location. This can include:
Site selection support
Real estate broker connections
Construction management
Planning and resources for your grand opening
Whether taking over a running business or setting up your own location with a tried-and-true business model, franchises can be an appealing turnkey investment.
How Much Is a Turnkey Business?
It's possible to purchase a turnkey business for $20,000 or less, and there are also options to invest upwards of $250,000. In other words, there's an opportunity for every budget to own a business without needing to start one from scratch.
Turnkey Businesses for Sale near Me
The easiest way to find turnkey business opportunities is through Franchise.com, a franchise listing service that allows you to filter by state, starting cost, and industry. You can also stay on top of new opportunities by following our New Franchises for Sale page, which also filters franchises by state.
What Businesses Can I Start with 20k?
You can purchase a turnkey business in a variety of industries for $20,000 or less, such as staffing solutions and financial businesses. Examples of turnkey businesses that you can find for up to $20,000 include:
Restaurant Heroes: Over 700,000 mom-and-pop restaurants are operating across the country, and through Restaurant Heroes, you can help these businesses succeed while also earning a living for yourself. With an initial cash investment of $20,000, you will gain access to the "Restaurant Success Playbook" and learn how to leverage new technology to help your clients increase sales, reduce waste, and optimize employee time.
The Loan Consultants: By starting a loan brokerage business through The Loan Consultants, you can earn a living with a product that never goes out of demand—money. As a partner with the oldest and largest loan broker program, you'll have access to resources like: an operating budget of over $1 million, a custom website, cutting-edge training tools, a network of over 100 top-notch lenders, and marketing materials. Getting started requires a starting cash investment of $13,800.
Global Financial Training Program: For a one-time investment of $19,950 and no additional fees or royalties, you can specialize in loans that help businesses and real estate investors. You'll have access to training, ongoing support, and funding to provide loans ranging from $5,000 to $500,000,000. You get to choose when and where you work, and with commissions of up to 15%, this can be the perfect business for finding financial and time freedom.
Franchise.com: Your Source for the Best Turnkey Businesses
There's no doubt that turnkey businesses offer a lot of value to potential owners, but how do you know if a business actually offers the convenience and profitability you're expecting? With Franchise.com, you can find successful brands with proven business models that are looking for franchisees in your area. Finding the right opportunity for you is as easy as:
Selecting the state you want to do business in
Entering how much you are willing to invest
Clicking "Find the Best Franchises"
Browsing through franchises for sale in your state and budget
Requesting free information to learn more about buying into that franchise
Ready to be your own boss? Instead of starting from scratch, start at Franchise.com.