Starting your own business is an exciting prospect, but knowing where to start your entrepreneurial journey can be difficult. You might start by simply looking for a business for sale (a franchise, perhaps). And if you're also interested in working remotely, it's actually not too difficult to find a turnkey online business for sale.
In this blog, we're going to take a trip through the world of absentee businesses, including how to find promising opportunities and how to determine the best absentee business for your objectives.
What Is an Absentee-Run Business?
True to its name, an absentee-run business is one whose owner does not manage the day-to-day details of its operations. Instead, they delegate these responsibilities to the employees they hire. The primary advantage to being an absentee owner is the flexibility it affords, since you don't have to be physically present, on location, in order for the venture to succeed. In other words, it can be a relatively hands-off process—which will appeal to some business owners but may cause anxiety in others.
An absentee business model is well-suited for experienced entrepreneurs who might be looking to grow their portfolio by capitalizing on an additional revenue stream, which could serve as a passive income business for its owner.
What Is a Semi-Absentee Business?
Semi-absentee businesses occupy the middle ground between traditional business ownership and an absentee business model. It's an especially popular option among those who are interested in owning a new type of business but aren't able to commit 40 or more hours a week to it. Typically, the daily operations of a semi-absentee business will be the responsibility of a trusted, on-premises manager (who would answer to the absentee owner).
What Type of Businesses Are Best Suited for an Absentee Owner?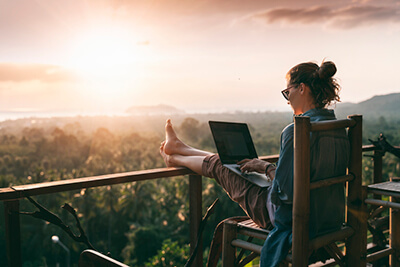 While not every type of business is suited for absentee ownership, plenty are. You should start by considering what industries you might be interested in (and have a decent amount of familiarity with), so that you won't face a too-steep learning curve.
When evaluating your absentee business options, you should focus on businesses with simple operations that don't require specialized skills (or knowledge) you don't possess. Ultimately, the more complicated the business, the more of a disadvantage absentee ownership could prove to be. Ideally, you'll already have a good understanding of the business or industry, how it operates, and what it takes to succeed.
When looking at turnkey businesses and franchises, another thing to investigate is the extent to which the business is already established. Brand awareness is difficult to build from scratch, especially without a marketing background. That's why a turnkey business or franchise is such a good idea if you're looking to invest in an absentee-run business. When you purchase a franchise, you can typically expect to have some of this work already completed—you might even inherit a fully-formed business plan in some cases.
All things considered, Forbes Business Council identifies some of the best absentee businesses as including:
What Does It Take to Succeed as an Absentee Owner?
Some of the most important traits that successful absentee owners possess include:
Personal Motivation: For some people, it can be difficult to stay motivated and engaged when you're not actually on-site and participating in day-to-day operations.
Business Acumen: Typically, having some experience as a franchisee or traditional business owner will increase your chances of success as an absentee owner.
Industry Familiarity: Especially when browsing turnkey businesses, it can be tempting to explore a wide variety of options and opportunities. For absentee franchise owners, it's best to stick with industries you understand well.
Innovative Thinking: Just because you're investing in a franchise or other turnkey business as an absentee owner, you'll still have plenty of opportunities to make the business your own. That being said, the more business acumen and industry familiarity you have, the easier it will be for you to make smart decisions.
Emotional Intelligence: There's no other way to say it: running a business can be challenging. Emotional intelligence is especially important for aspiring absentee owners, since you'll need to manage your emotions, inspire and guide your employees, and be resilient in the face of any difficulties that might arise.
Leadership Ability: You might have an excellent business model, well-developed plans, and a great staff—but if you don't possess strong leadership qualities, your chances of success are going to be diminished. Do you have what it takes to inspire?
Communication Skills: Last but not least, effective communication skills are just as important as the ability to inspire. If you can't clearly communicate your plans, instruct employees, and help to foster great customer relationships, you'll be at a disadvantage.
Where Can I Find Absentee Owned Franchising Opportunities?
At Franchise.com, you can search for franchising opportunities by industry and investment cost. Or, you can browse our Top 25 Franchises list. For aspiring absentee owners, we recommend starting with our Big Opportunities page to explore recognizable businesses with proven business models and consumer loyalty. In other words, they're opportunities that are especially well-adapted to absentee owners. As you find franchises you're interested in, simply click the on-screen button to request more information!