The great news for investors is that buying a small business has never been easier. This is thanks to a myriad of databases and directories dedicated to helping investors find what they're looking for. However, more opportunities do not necessarily mean every business for sale is worth buying. As purchasing becomes simpler, it's crucial to have a discerning eye for good investments. Below, read about some essentials to consider when developing your due diligence checklist for any business purchase, including acquiring business loans, what to look for in financial statements when buying a business, and why franchises may be one of the best options for buying an existing business.
What Are the Four Things You Should Consider When Taking Over an Existing Business?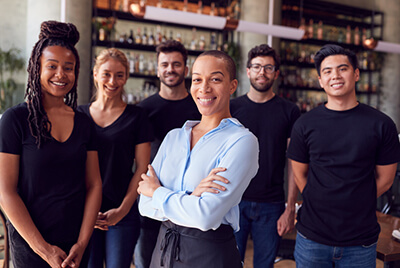 Of course, there are many things to assess about a business, but here are four starting points:
Reliability – In general, it's best to seek businesses whose products or services will always be in demand and are barely affected by the economy, if at all. An ideal business has a proven plan and is evergreen, recession-proof, and even pandemic-proof.
Industry of Choice – What a business aims to sell-and who they want to reach- says a lot about what kind of experience to expect and how much work you will need to do. Some industries, such as fast food, appeal to a wide range of people, have well-established business models and fare better in economic recessions. On the other hand, something like a rock climbing gym-that is, a business with a niche product or service-requires specialized staff, appeals to a specific audience, and will likely require a more hands-on operational approach from you as an owner.
Brand Equity – While it's tough to call one factor the most valuable, branding is undoubtedly important. It influences the state of all other factors, no matter what industry the business is in. Consumers are more likely to buy from a business with a well-known, established brand. Many franchises, such as McDonald's or Planet Fitness, demonstrate the power of branding.
Time Investment – Not every business is equal, and not every business requires the same amount of effort. Smaller, newer businesses tend to have less of an established plan, and will likely require more investment from you. This is not inherently bad, but something to consider-particularly if you're looking for passive income. If that's what you're seeking, franchises may be a better choice, as they typically already have established operations, business plans, and even employee training processes.
A franchise may be a good option if you're unsure of where to begin searching for an existing business. They come with well-established branding, a tried-and-true business plan, and established training processes that take a large workload off the owner. They are also relatively easy to find. For example, Franchise.com offers extensive directories to filter franchises based on your desired business size, market, and industry.
Five Red Flags When Buying a Business
While there is no shortage of opportunities to become a business owner, not all of them are good ones. Here are some things to keep an eye out for when taking stock of a business:
Urgency – A business that pressures a potential buyer to close the sale quickly is almost always a reason to be concerned, especially when paired with a lack of transparency. While smart business owners do need to respond to market trends with some urgency, if a business wants things to move too rapidly, it can be an indicator of other red flags like the ones below.
Inaccurate or Unclear Finances – this is arguably the most worrisome outright, because it can lead to financial failure and legal troubles, particularly if the business is not up to date on its taxes.
Declining Sales – while this is not always a mark of imminent failure, revenue trends are certainly something to be aware of, especially in correlation with other details. If a business shows a long history of declining sales, it's probably not the best investment decision.
Poor Brand Equity – in the way that high brand equity helps procure sales, a bad reputation can seriously hurt sales. That being said, a poor reputation is not necessarily a reason to avoid investment. If the selling price is low enough, it may be worth investing in a low-reputation brand for a potential turnaround, provided that you can take on the inherent risk.
Few Loyal Customers – if the business does not have repeat customers, this can sometimes hinder profitability down the road. Of course, the impact this has on the business's ability to succeed largely depends on the industry it's in.
While franchises are not completely safe from any of the above red flags, they do inherently carry some protections against these red flags, particularly because of their built-in brand equity and established customer loyalty-wherever they're located. For example, many fitness lovers find comfort in the consistency of Orangetheory, and many fast food lovers are excited to see a Taco Bell off the nearest highway exit.
How Do I Get a Loan To Buy an Existing Business?
Business loans can come from several sources, including a commercial bank, credit union, or the Small Business Association (SBA). While they make ownership far more accessible and are usually a part of the journey to owning a business, loans should not be taken lightly. They still come with an inherent risk-particularly if your business of choice isn't profitable-and you don't want to be left paying off a massive loan on your own. In addition to finding a reliable, trustworthy business, here are some things to consider:
It is also possible to use a personal loan to buy a business. However, before doing this, you should ensure the loan does not have any restrictions around usage for businesses. Review the lender's conditions before investing in a business. Typically, such restrictions are explicitly expressed.
Ultimately, there is one good way to make a loan worth borrowing: by putting it towards a reliable, consistent business that is going to turn a steady profit. This is why buying a franchise is a good option for aspiring business owners. Established branding, a developed marketing plan, and assistance from corporate oversight help set business owners up for success. If you're interested in learning more, visit Franchise.com to search franchise opportunities near you.