Many people romanticize about being their own boss one day. The good news is that, regardless of your passions, business acumen, or innovativeness, there are many viable routes to achieve that dream. For some people, starting their own business from scratch is the best option. For others it might make more sense to look for an existing business for sale. Another alternative is to consider starting your own franchise location, which comes with its own set of pros and cons.
So, how do you decide which option is right for you? Is buying an existing business better than starting one? Is franchising the right move for you? In the following blog we will help you gain some clarity as we discuss the advantages and disadvantages of buying an existing business, and when it might be a good (or bad) idea.
Is Buying an Existing Business a Good Idea?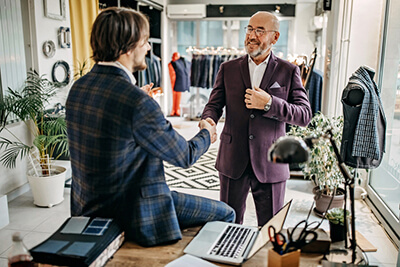 The short answer is that it can be. If you want to be your own boss but don't want to start from the ground up, buying an existing business or franchise is a great option. Of course, to fully decide whether it is a good idea for you, it's important to understand what the purchase process is like.
What Happens When You Buy an Existing Business?
First things first, it's helpful to know what the process of buying an existing business or franchise entails. When you buy an existing business or franchise, you take ownership of the organization or franchise location. Typically you will be taking full ownership of the company, however in some cases you may become a majority owner (meaning there are other minority owners involved). In order to buy an existing business you should follow the steps outlined in the "buying an existing business" checklist below.
The first step is to decide what type of business you want to buy. A good starting point is to begin with what you are passionate about, where your interests lie, and what skills you have. Of course when considering what business to buy, you should also take into account the industry it is in. You will want one that is not only experiencing success in the present, but also shows promising market potential in the future.
Next you should search for businesses for sale. Whether you are looking for an existing business or franchise, there are plenty of ways to find the right businesses for sale. For example, at Franchise.com there is a whole list of different businesses for sale. Similarly, you can look for ads or start networking to learn about more business buying opportunities.
People often ask, "What should I look for when buying a business?" Once you locate an existing business that interests you, figure out why it is for sale. This might seem like an obvious thing to consider, but if an existing business is being sold because it's no longer profitable or has serious innate problems that should be a red flag. Of course, sometimes businesses sell for other reasons. Either way, reach out to the current owner and ask them about their experience, challenges, and problems they've encountered owning the business. Oftentimes this step will also take place as part of step 5, doing your due diligence.
Now that you have created a list of viable opportunities, hone in on a business that aligns with your budget, goals, and resources. During this step it's time to decide on your ideal business size, location, staff, budget, and more. Then start moving forward with the buying process on the business that meets the bill.
Do your due diligence when assessing the business you plan to buy. This includes looking at things like permits, licenses, zoning laws, tax codes, financials, organizational structure, and more. The goal here is to identify any potential risks and nullify them or decide that things are not in order enough to feel comfortable with the purchase.
After due consideration, it's time to agree on a purchase price. This process includes weighing the current value of the company (including its earnings and assets) against the asking price and projected future value of the company. Unfortunately, this is where many deals fizzle out because the two parties have vastly different valuations. In general, it's best to determine your ideal number and your maximum price and stick to them when negotiating.
Assuming you find an agreeable price, you need to secure funding to make the purchase official. This can be in cash, loans, financing, partnerships, or several other capital forms.
Once you figure out how you plan to pay, all that's left to do is close the deal. This will consist of several legal documents and can be a fairly complex engagement. Oftentimes it is helpful to consult a legal professional for this step.
What Are the Disadvantages of Buying an Existing Business? What Are the Advantages?
There are several advantages and disadvantages to buying an existing business. Let's take a look at some of each.
Disadvantages of Buying an Existing Business
You often get what you pay for. So, if you can buy a business for cheap, it likely means that it isn't thriving. On the other hand if a business is flourishing, the asking price is going to be pretty steep. Of course with franchises, this is not always the case as successful opportunities can cost as little as a few thousand dollars.
You may have to completely shift the operations of your business once you buy it. It can be harder breaking old habits and teaching new processes than it is to just start from scratch.
You could potentially get scammed or misled by a dishonest seller. Perhaps they lied or misrepresented financial information or glossed over necessary repairs. Doing your due diligence can of course help reduce this risk.
You may have to combat a bad reputation. If a business is sold as-is and not rebranded, there is a good chance that whatever bad reputation existed under the old owner will follow you around as well. This might be another thing to consider when doing your due diligence.
Advantages of Purchasing an Existing Business
Your product or service is already market tested. This should give you a good idea of how well the market reacts to your offerings.
Your startup time and costs will be significantly reduced since you will already have an existing location as well as customers and inventory.
You buy an existing brand and customer base. This can help reduce your need to win over customers and spend money on marketing.
You can secure funding more easily. Generally speaking, getting working capital and loans is easier to do on an existing business since lenders will have more historical data to make decisions with as opposed to projections alone.
Consider Buying a Franchise Instead
If you are persuaded by the reasons for buying an existing business, but wish there were fewer disadvantages, then buying a franchise might be the right choice for you instead. When you buy a franchise, you get to be your own boss while still reaping benefits like:
An established brand and customer base
A market-tested product or service
A success playbook
A supportive parent company
An easier path to secure funding
Plus, there are franchise opportunities in just about every industry, and at every price point, so you can find one that suits your interests and your budget. To learn more about franchising or to find the perfect franchise for you, check out our selection!