Investing in a franchise is a major commitment, and in most cases, the franchise agreement will bind you to that location for a set number of years. As you consider the reasons why you should start a franchise, you need to evaluate whether you're willing to commit yourself to that company. During the interview process, you and the franchisor will get to know one another better. Here are 4 questions to ask a franchisor during the interview process:
1. What Is My Earnings Potential?
This question might be obvious, but it relates to your number one motivation for starting a franchise. After all, you'll need to evaluate whether this franchise will provide a sufficient return on your investment.
Bear in mind that no franchisor can offer a guarantee when it comes to future earnings, but they should be able to supply you with data from some of the other franchises. Press them for specific data from franchises in your area or franchises in a similar territory.
Additionally, you'll want to clarify how these potential earnings stack up against your upfront costs. That's why there are several other questions to ask a franchisor, such as:
What is the franchising fee?
What are the royalty fees?
How is the property maintained?
These additional questions will provide some clarity as to how much you'll be expected to invest in the franchise on your own, which will naturally take a significant bite out of your profits.
2. What Are My Renewal Options?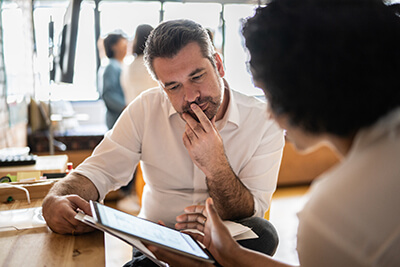 Read the franchise agreement carefully, ideally before you meet with the franchisor for the first time. The franchise agreement serves as the contract that defines the relationship between you and the franchising company. It will clearly detail what's expected from you and will also explain the terms of the arrangement.
The franchise agreement will also include the term in which you'll operate the franchise. Typically, this is a five or ten-year commitment, though it's ultimately up to the franchisor. But that can mean that after your contract expires, all of your hard work goes to the next franchisee.
Ask about renewal options. Some franchisors will allow franchisees to renew their contract for another term, provided they meet certain terms, conditions, or financial benchmarks.
Clarifying this option beforehand can help you determine whether you'll be investing for the long term or whether you'll only run the business for the duration of the contract.
3. What Support Does Your Company Offer?
One of the greatest advantages of franchising is that franchisors typically offer support and guidance. In fact, one of the reasons why you should start a franchise is that you're essentially partnering with an organization with an established business model.
Ask specific questions about the type of support that the franchisor will offer. This support might include things like:
Guidance on financing options
Connections to equipment suppliers
Relationship with inventory suppliers
Assistance with finances and bookkeeping
Training for you and your staff
Local marketing and promotional materials
Additionally, be clear on what support is included in your franchising fee and what support comes at an additional cost. In some cases, guidance alone is worth its weight in gold, but many franchisors will also charge their franchisees money for things like local promotional materials, training materials, and more.
4. Describe Your Company Culture
One of the most overlooked questions to ask a franchisor relates to the company's overall culture. Basically, you need to determine whether you'd actually like to work for that company. You might consider asking questions like:
How does the franchise value their franchisees?
What is the franchise's reputation among its customers?
How are disagreements and disputes resolved?
What relationship do franchisees have with one another?
If nothing else, you might simply ask your interviewer(s): "Tell me why you enjoy working for this franchise." Their answers may persuade you one way or the other.
Naturally, these questions are intended for more than just your interviewers. You might also do some online research to assess the company's culture and might even consider talking to some local franchisees.
Opportunity Awaits
Now that you know more about why you should start a franchise, why not take the next step?
At Franchise.com, we offer additional resources and even a franchise locator to help you find franchise opportunities in your area. Search for a franchise today, and you might be surprised to learn that your next great adventure is just a few mouse clicks away.