In recognition of a holiday almost as obscure as Opposite Day (January 25th),
Franchise.com
is officially wishing all those business owners and managers out there a Happy Boss's Day with a little history, stats and options for those of you who want to be your own boss.
A Little Bit of Boss's Day History
National Boss's Day was established by a woman named Patricia Bays Haroski in 1958 who worked for her father as a secretary for State Farm Insurance Company. The purpose was not only to give thanks and appreciation to her father and recognize his hard work (October 16th is also her father's birthday) but to boost office morale and strengthen manager-employee relationships. Not everyone celebrates National Boss's Day on the same day but did you know that Canada, Lithuania, Romania, Australia, India, Ireland, and Egypt also recognize it?
Tell us if and how you celebrate Boss's Day.
[caption id="attachment_1958" align="alignright" width="300"]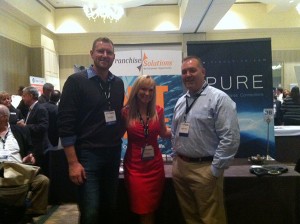 From L-R, Guidant FinancialDavid Nilssen, Co-Founder and CEO Guidant Financial Group, Kim Woods, CFE Sr Client Consultant at Franchise Solutions and Matt Alden, President of Franchise Solutions and Franchise.com[/caption] Our hard-working boss, Matt Alden, is currently in Atlanta, GA at the Franchise Leadership & Development Conference. This annual summit brings together leaders of the franchising industry to share successful practices, techniques and trends on growing franchises. If you want independence to run your own business and find the right opportunity to be your own boss, take a moment today and
explore the options available at Franchise.com
. Owning a business opportunity or franchise makes it easier to find that control and work life balance so many people seek.
Franchise and Employment Tid Bits
Research shows people who are their own bosses are happier. A franchise business has a 92% success rate over five years, compared to an independent business. The number of franchise establishments in the U.S. is expected to increase by 1.7% in 2014.* *IFA 2014 Economic Outlook Forecast