It's not a big secret that most celebrities venture into the business world on top of their profession in the limelight. While many celebrities attempt to start their own businesses and brands, more celebrities are turning to franchise ownership to take advantage of brand-power and an operating playbook.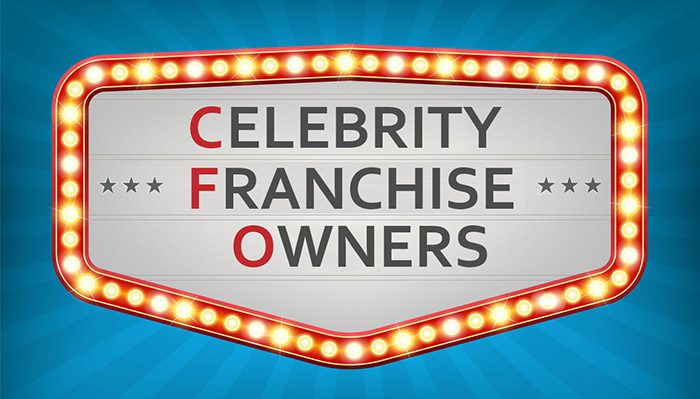 Here are 10 big names that are building (or have built) franchise empires.
1. Magic Johnson (NBA Hall of Famer)
Magic, or officially Earvin Johnson Jr is well-known for his time on the basketball court. He starred as the point guard for the LA Lakers for 13 seasons. As it turns out, Magic also has a knack for business.
That's right; the three-time NBA MVP owns or has owned multiple Burger King franchises and created a company that built and operated 100+ Starbucks coffee shops for many years before selling them back to Starbucks corporate in 2010.
2. Shaquille O'Neal (NBA Hall of Famer)
Shaq has become almost synonymous with celebrity franchise ownership. On top of his many endorsement deals, the former NBA all-star owns more than 215 franchises. These include 17 Auntie Anne's Pretzels locations, 40 24-Hour Fitness Clubs, and 155 Five Guys Burger franchises.
More recently, he became a multi-unit owner, board member, and spokesperson for Papa Johns pizza franchise.
3. Peyton Manning (Retired NFL Quarterback)
Peyton Manning is not your average football player. In 2016, Peyton hung up his boots as the quarterback for the Denver Broncos after a hall of fame career with the Indianapolis Colts . Peyton is perhaps one of the most well-known names in the world of franchising, predominantly because of his tie to Papa John's Pizza for several years before Shaqille O'Neil's more recent involvement with the fast food franchise.
Peyton Manning has not only done several headlining commercials for Papa John's pizza but also owned 21 franchises of the company. Most of the businesses are located in the state of Colorado.
4. Phil Mickelson (PGA Tour Golfer)
Phil Mickelson is not just known for his precise left-handed swing; the prominent golfer has a major interest in the Five Guys franchise. He owns the rights for Five Guys in the entire Orange County in California. On more than one occasion, Phil has also expressed interest in investing in other QSR franchises, most notably Waffle House, having attempted to get control of more than 105 Waffle House stores in 4 different states.
5. Chris Brown (R&B Singer)
The R&B singer has quite an interest in the fast-food franchise world. It is reported that Chris Brown is the owner of 14 (and counting) Burger King outlets. This is no small feat considering that a chain franchisee must have more than half a million in liquid assets and a net worth of over $1.5 million.
6. Jimmy Buffett (Musician)
Jimmy Buffett is a singer, songwriter, actor, and author, all rolled into one. It so happens that the king of Margaritaville is an avid businessman. In the early 2000s, the singer purchases a Krispy Kreme franchise in Florida's West Palm Beach.
7. Rick Ross (Rapper)
Maybach Music recording artist, rapper Rick Ross owns a reported 25 Wingstop franchises, with most of them located in Southern states. He opened his first Wingstop in 2011. It is said, when Ross bought into the chicken wings franchise, sales increased by 50% in some of the locations he took over.
8. Drew Brees (NFL Quarterback)
The former quarterback of the New Orleans Saints, Drew has always had a soft spot for his favorite sandwich shop. That's why he started with 3 locations before being given the green light to open 20 more Jimmy John's shops in New Orleans.
9. Venus Williams (Tennis Superstar)
After being diagnosed with  Sjogren's syndrome, the tennis player turned to Jamba Juice to increase her energy levels and manage joint pain. As a vegan, Jamba juice was a no-brainer for her choice of franchise. Venus currently owns 4 juice and smoothie franchise locations in the DC area.
10. Kanye West (Rapper)
The outspoken rapper is a fan of Fatburger, the burger franchise. He loved it so much so that he decided to open a location in Chicago. At the moment, he owns the rights to open up to 10 Fatburger locations in the Chicago area.