Delivery services have changed the dynamics of almost all sectors of the food industry, especially where the business-customer relationship is concerned. Let's explore how they are affecting food franchises.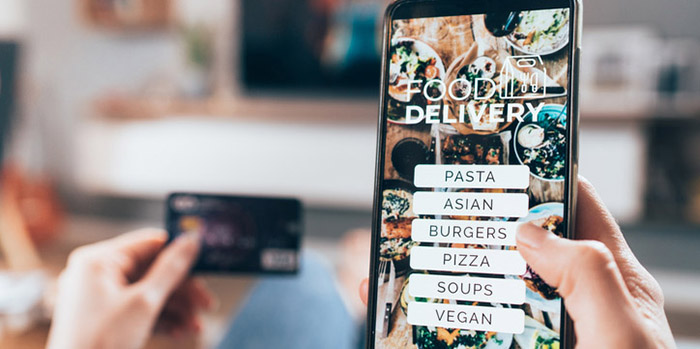 1. Convenience
Online delivery is booming as more people order conveniently from their desk or couch. With a smartphone and network connection, you can order your favorite burger or pizza and it can be delivered directly to you. Food franchises have to offer the convenience that meets the demands of the customer who wants to dine in rather than eat out.
2. Advances in Technology
With technology improving every minute, delivery services have been the greatest beneficiary. The food industry has embraced and adopted the emerging technology. Today, you see digital ordering kiosks and vending machines, mobile ordering, pay and pick up services and app-based delivery services.
3. Preservation
According to Statista, the revenue for online food delivery in the U.S. is predicted to exceed $19 billion in 2019. And by the end of 2020, delivery sales could be more than $220 billion. For the first time, spending on deliveries, drive-thrus, and take out will surpass spending on dining inside restaurants. According to industry reports, no segment of the industry is growing faster than online delivery. This service represents 5-10% of total restaurant business.
For food franchises to meet the instant gratification of consumers to have food anytime, anywhere and capitalize on this market, they should institute a delivery process if they haven't already.
4. Minimal Costs
Franchises do have to consider the costs of offering this online ordering and delivery. First, there is the app development and maintenance with the app updates as technology evolves. Then, there is the cost of personnel for drivers. These costs can be offset by the delivery fees.
5. Availability of Delivery Services
With the recent explosion in delivery services, many food franchises are instilling either in-house delivery or using a third party. The third-party apps earning the most business are Uber Eats, Grubhub, DoorDash, and Postmates. To meet customer expectations, apps should:
Offer online payment options
Be able to offer online tipping
Have tracking capabilities
Be able to send text notifications and alerts
6. Geographical Coverage
With delivery services, customers can access their favorite food anywhere. The geographical coverage a restaurant can make with delivery is exponentially greater than restaurants that do not and creates an additional value-add for the customer.
7. Revenue Generation
Due to the unrestricted nature of the delivery system, franchises that incorporate these innovative services can increase sales and generate more revenue. Most businesses have turned to delivering their orders. Thus creating a competitive environment for the franchise business.
8. Maintaining Quality
With restaurants, having quality food is vital. Food preparation and menu selection has to be up-to-the brand's standards. It promotes the business's reputation and earns customer loyalty. The trick with delivery is quality control. The service must be maintained and deliver high-quality food at the right temperature in an acceptable amount of time without the fear of it being tampered with.
9. Business Growth
With a franchise, it takes marketing, advertising, and public relations to spread the word about a new location. Deliveries can help gain more exposure and grow the business faster. With deliveries, you do not have to be restricted by local foot traffic. Additional revenue can come from a well-customized website and online sales.
Any form of business that is not able to keep up with the ever-changing demands of the customer will fail. It may not seem like much at first, but the impact of customer satisfaction on deliveries is enormous. Franchises will need to stay on top of order accuracy and increasing the value for the customer by possibly offering later delivery times and faster service.
Reference links
https://money.cnn.com/2015/04/17/news/companies/mcdonalds-franchise-unhappy/
https://www.leaf.tv/articles/advantages-disadvantages-of-the-food-delivery-system/
https://www.reuters.com/article/us-mcdonald-s-corp-results/mcdonalds-misses-profit-target-as-competition-delivers-breakfast-plant-burgers-idUSKBN1X11EL
https://www.qsrmagazine.com/ordering/how-restaurants-can-thrive-delivery-economy
https://www.theatlantic.com/ideas/archive/2019/08/all-food-will-be-delivered/595222/