Yes, franchises do have business plans. In fact, franchisors often require franchisees to develop a business plan during the application process. As Yogi Berra, the legendary baseball player, famously remarked: "If you don't know where you're going, you'll end up someplace else." This quote emphasizes the significance of having a clear direction and goal, which is what a business plan provides for franchisees.
Have you ever considered buying into a franchise but been intimidated by the thought of writing a franchise business plan? Don't let this hold you back from pursuing your dreams—Franchise.com is here to help. In this article, we'll cover the essentials of developing a business plan for your franchise.
Why Do You Need a Franchise Business Plan?
Franchise business plans are essential documents that outline a franchisee's objectives, strategies, and tactics for achieving their goals. These plans serve as roadmaps for franchisee success and help franchisors evaluate the franchisee's viability and potential for success.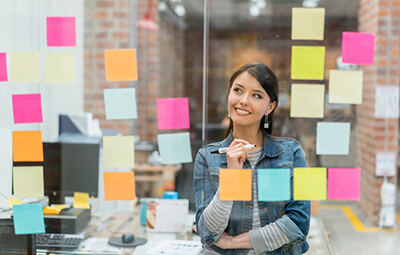 Why do you need a business plan in franchising, exactly? Looking more closely, here are several compelling reasons you should prepare a business plan for a franchise:
Deepen Your Understanding – Preparing a business plan will increase your understanding of the franchise business model and how to effectively operate your franchise within that model.
Identify Risks – Before diving into franchising, it's important to recognize potential difficulties and risks and create a plan to overcome them.
Secure Financing – Most lenders and investors won't fund your franchise unless you provide a business plan. Your plan demonstrates that you have a solid understanding of the franchise and have thoroughly thought through everything.
Support Communications – If you want to bring in employees, partners, or other stakeholders, a business plan can help you effectively communicate your ideas and value proposition to these people.
Measure Progress and Grow – A business plan is an excellent benchmark for measuring progress and success over time, allowing you to adjust and pivot as needed. By doing so, you can capitalize on emerging trends, adapt to changing customer needs, and stay competitive.
Do I Need a Business Plan to Open a Franchise?
Most of the time, you will need a business plan to open a franchise. Even if it is not a requirement, franchisors may ask for your business plan to evaluate your understanding of the business and your ability to succeed as a franchisee. So while you may not be required to create a business plan to open a franchise, it is highly recommended to do so to increase your chances of success.
But does it actually pay to plan? Harvard Business Review has confirmed that it does. They recently analyzed data from the Panel Study of Entrepreneurial Dynamics II, which monitored a group of over 1,000 prospective business owners in the U.S. from 2005 to 2011. This study examined the entire spectrum of actions taken to initiate a business. The goal was to determine whether each business attained the vital factor of feasibility—having positive cash flow.
The study discovered that individuals who crafted formal business plans had a 16% higher probability of achieving viability than those who didn't. This statistic is particularly significant since only 50% of businesses survive past the 5-year mark, according to the U.S. Bureau of Labor Statistics. So, the increased chance of success that comes with creating a business plan is quite promising.
Do Franchises Provide a Business Plan?
Franchisors frequently provide materials that help you create your business plan, but you are responsible for the end result. A franchise's success is largely dependent on the success of its individual franchisees, so the franchisor has a vested interest in ensuring that each franchisee has a solid plan in place.
Now, you're likely wondering, "How do I create a franchise plan with a franchisor?" Here are a few ways franchisors assist new franchisees with their business plan:
The Franchise Disclosure Document (FDD) – This is a legal document that franchisors are required to provide to prospective franchisees by the Federal Trade Commission. It contains detailed information about the franchisor's financial performance, the initial investment required to open a franchise, ongoing fees and expenses, the franchisee's obligations, and other important details. Sometimes, the FDD may include a business plan outline or franchise plan example PDF for the franchise. If it doesn't, the FDD is still full of useful information a franchisee can use to inform their business plan.
Training and Workshops – Franchisors may also offer training or workshops on business plan development, either in-person or online. These sessions often cover topics such as market research, financial forecasting, and effectively communicating the value proposition of the franchise to potential investors or lenders. By drawing on their own experiences and strategies, a franchisor can ensure that a new franchisee's business plan aligns with what they know works.
Personal Coaching – Some franchises will even assign a personal business coach or mentor to work closely with the franchisee during the planning process. The mentor provides valuable guidance and feedback while helping the franchisee stay accountable and on track.
So while creating a business plan may intimidate newcomers to the franchise world, the process is not as painful as it may seem. Plus, you'll have the franchisor by your side and assisting you through it all.
Now – it's time to take the plunge and find a franchise! Check out some of the top franchises of 2023 here, and get started on your path to becoming your own boss.