One way to stay united as a family is to run a business or franchise together. For thousands of years, dynasties have controlled, ruled and owned different segments of industry. From politics to business, families have been able to thrive throughout generations and today, many families operate franchise businesses.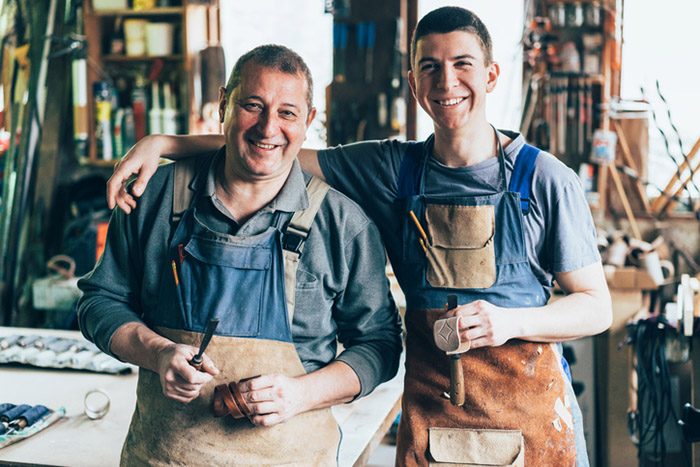 James Hutcheson, owner of the Regeneration Partners, says more than 75% of the companies in the United States belong to families. Likewise, people who share the same bloodline and interests find value in owning a business together.
Running a family franchise can have its fair share of stress, though. The business' troubles, rivalry, and over-ambitiousness can flow into family life. Being cognizant of those challenges and the family dynamics will make you better prepared to run a smooth operation.
Choosing the Best Franchise for Your Business
Success in a family business boils down to the complexity of running the family, and the business. What does it take to have a successful family business? The keys to managing a family franchise are the strength, strategy, and endurance to survive, not only as a family but also as a business. Take the following advice into account:
Examine the ability of your family to withstand pressure
Understand that a family and business are different entities that need to be managed separately. So, before you marry your family with your business, determine whether the social family dynamics can withstand the pressure of meeting the financial goals for the business.
Set clear roles for each family member
When running a family franchise, it's best to assign specific roles to each member to set expectations and avoid conflicts. Defining these roles well will help to keep everyone productive and focused on the business and their specific tasks at hand.
Two minds are considered better than one but, if too many people are involved in decision-making, the team can get derailed. Therefore, assign specific roles for every family member and give them objectives and goals to achieve.
Set the boundaries
If you want your family franchise to succeed, draw clear boundaries between business and pleasure so to speak. The two don't mix well, and you should pay enough attention to both. Just because your business meeting consists of a team of brothers doesn't constitute time together as a family.
Encourage active communication
Build a healthy environment with strong, open lines of communication where everyone can share their thoughts and ideas honestly. Good communication syncs the family members with the corporate plans and strategies.
Plan as a family
If you want your family members to give their best in the franchise, you must create a benefit and compensation plan with them in mind. Make sure to consult experts for this part of the business. Have a clear salary structure and compensation plan for your family members. Also, have succession plans in place so that the family business can continue to grow with the next generation.
Best Franchises for Family Business
Many family-run businesses tend to concentrate in specific industries. Although it's exciting to develop innovative ideas and follow trends, it is less risky to use proven models. Here are a few ideas you may want to explore:
Retailing is one of the most ideal family franchise industries. The tasks and duties in retail such as bookkeeping, inventory, promotion, and accounting can be delegated to many family members.
Food franchises are a good investment for families. The business hours can long and challenging, but when they are shared, it becomes more manageable.
Restaurants and food franchises are a natural fit for family businesses. They imitate the chores that already occur at home. For example, someone cooks while others serve the food, do the dishes, clean and take out the trash.
Surprisingly, you don't have to come from a long line of mechanics and engineers to enter the auto industry. In fact, what is more helpful is having a passion for the industry, and the necessary customer service and management skills.
Some of the tasks family members can share in an automotive business include repair, marketing, and maintenance.
Franchise Concepts Started By Families
More than 70% of businesses started as family enterprises. Some of the leading family franchises include the following:
The Leather Doctor is a franchise that deals with leather treatment. The company primarily deals with dry cleaning, fitting and treating leather. They also offer auto leather treatment and cleaning.
Bakers Delight was founded in 1980 as a bakery. Today, the family-owned franchise has nearly 1,000 locations worldwide.
Jim Judy from Forbes says that franchising is good for a family business. According to Jim, it teaches responsibility to the children. It also builds teamwork within the company and family because it unites them toward a common goal. And, when a family works together, it is likely to play together. Then, the family creates a strong bond, has a plan for their future together and can leave a legacy for future generations.
Resources
https://www.forbes.com/sites/forbescoachescouncil/2018/04/09/why-owning-a-franchise-business-is-good-for-your-family/
https://www.entrepreneur.com/article/229586
https://www.entrepreneur.com/article/160244
https://www.pointfranchise.co.uk/families-magazine-franchise-14611/