Franchises are everywhere. Chances are, you pass by at least a half dozen franchise businesses on your way to work each morning. The stability of these nationwide chains is one of the best reasons why you should start a franchise.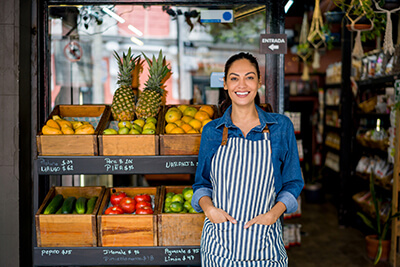 If you're only getting started on your franchising journey, you may be curious to learn more about some of the biggest franchises in the world. After all, these companies may inspire your franchising journey, and their experience can highlight the advantages and disadvantages of franchising.
1. McDonald's
Are you surprised? Since its beginning in 1954, McDonald's has become the center that other fast-food franchises orbit around. Yet, the presence of so many imitators has done nothing to quell its global success.
The company enjoys over $90 billion in global sales and represents the largest franchise network in the world. With nearly 40,000 locations around the globe, there are few places where you can't buy a Big Mac.
This market penetration might be another great reason why you should start a franchise with Mcdonald's. The brand recognition alone is unparalleled, giving you an instant customer base from the moment you open your doors. Additionally, with so many franchise locations, you're bound to find multiple opportunities right in your own backyard.
2. 7-Eleven
This convenience store chain now has over 10,000 locations in the United States alone along with an established presence in 16 other countries. Some locations sell gasoline while all locations are known for their Slurpees and other convenience items.
In some territories, this convenience chain has endured stiff competition from other gas stations and convenience stores, but 7-Eleven remains an established brand, generating over $80 million in global sales.
For prospective franchisees, this represents a unique opportunity to run a business that isn't another fast-food chain. Of course, there are many advantages and disadvantages of franchising, but operating a convenience store provides a different work environment than the other franchises on this list.
Additionally, these stores tend to be smaller locations, which means you'll have fewer staff members to manage compared to employing a full kitchen staff.
3. KFC
KFC has long been recognized as the alternative to the traditional burger-and-fries experience of other fast-food chains. That's been good for business, as the chain serves over 12 million customers each day with locations in over 115 different countries.
Recently, KFC expanded its menu to offer healthier, grilled options to its guests—which has only further distinguished it from competitors.
KFC's parent company (Yum!) is consistently ranked on the Fortune 500 list, representing not just KFC but also Pizza Hut and Taco Bell. That is why it's common to find these restaurants occupying the same commercial space. This arrangement presents greater diversity for potential entrepreneurs who might welcome the chance to join this worldwide chain.
4. Subway
Since 1965, Subway has been a household name for those who'd rather "eat fresh" than consume the fried fare at other establishments. Its marketing campaign has consistently emphasized this unique value—even boasting of the relative health benefits of its menu compared to its competitors.
Subway currently operates 42,000 sandwich locations worldwide with recent expansion into places such as South Africa. What makes the business unique—apart from its menu—is that many locations don't require freestanding commercial space. Instead, the business can operate out of a storefront or inside other businesses.
For example, some Walmart locations have a Subway inside their doors, and Subway remains a staple in most malls and shopping complexes.
5. Burger King
Another powerhouse in the fast-food wars, Burger King (BK), currently operates 13,000 locations worldwide, including 700 recent international additions.
With sales reaching $16 billion, Burger King remains a solid competitor against giants like Mcdonald's. For those considering franchising options, this might provide a competitive advantage for communities that have limited dining options.
If you know of a region that lacks another alternative fast-food chain, this might be a reason why you should start a franchise with Burger King.
Explore Your Options
These franchise giants embody some of the advantages and disadvantages of franchising. On the one hand, you'll have the support of a global chain and all of the assistance and marketing that goes with it. On the other hand, you'll also have to adapt to their way of doing business.
In the end, the best way to explore your options is to find franchise opportunities near you. Use the franchise locator tool on Franchise.com to find franchises in your area and take the next step on your entrepreneurial journey!