Technomic, a research and consulting firm which reports on the food and food service industry, asked consumers to rate more than 120 growing restaurant chains on approximately 60 attributes.
"It's important to point out that it's the consumers who rated the chains and selected the winners," said Darren Tristano, president of Technomic. "In essence, the award is from the customers themselves."
The final analysis boiled down consumer ratings based on four key areas: food quality, intent to return, value through service and social responsibility.
Twelve brands won Technomic's 2016 Chain Restaurant Consumers' Choice Awards. Six of the twelve are franchised chains: Papa Murphy's Take 'N' Bake Pizza, Firehouse, Rubio's, Chick-fil-A, Jimmy John's Gourmet Sandwich Shops and Ben & Jerry's. Two of those six are advertisers on Franchise.com.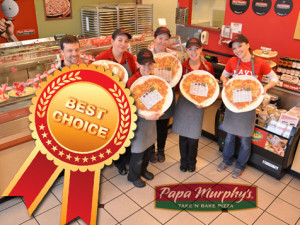 Papa Murphy's has been poloponynetwork.com a client of Franchise.com since 2008 and was ranked by consumers as having the best food quality. Kim Woods, CFE who first brought on the account says "I'm not surprised. Despite the growth of pizza outlets, Papa Murphy's continues to stay ahead of the game with made-to-order items. It's a convenient service." The chain is current with all the restaurant trends; with gluten free pizza crusts and healthy side dish options and the addition of the Papa Murphy's mobile app and texting club for mobile deals.
Jimmy John's Gourmet Sandwich Shops began advertising on Franchise.com last year and was recognized by consumers for providing stellar value through service. Although Jimmy John's boasts the fresh food it uses to make gourmet sandwiches, the way it is served is measurably as important to customers. You know the fast casual restaurant's model and training is working when a tasty Jimmy John's sandwich made in a Utah location is presented the same way at Jimmy John's in Illinois.
Note: A chain is limited to winning one Technomic Consumers' Choice Award per year. The analysis tracks 138 leading restaurant chains operating within the United States quarterly.
About Franchise.com
Offering Internet lead generation since 1995, Franchise.com helps growing franchise systems meet their development objectives by showcasing their opportunities to prospective franchise buyers. The industry's most recognized portal, Franchise.com remains steadfast in its mission to deliver highly qualified prospects to its advertising clients.
Tap here to view all the opportunities currently listed on Franchise.com and here to learn how your franchise can advertise on the site.