The 56th annual IFA Franchise Convention will be held on February 20-23, 2016 at the Henry B. Gonzalez convention Center & Marriott Rivercenter in San Antonio, TX.
About the Convention
The IFA annual convention features premier franchising players in the industry and among the exhibitors will be Franchise.com. This is a "must attend" event for anyone in the franchising industry filled with networking, educational workshops, speakers and award presentations where professionals discuss the future of franchising, trends and strategies to position businesses for success.
Sessions are led by some of the most qualified and knowledgeable speakers in the franchising industry. To view a full brochure of the event tap here.
Keynote Speakers
The opening general session will begin on Sunday, February 21, from 12:30 pm to 2:30 pm, and will feature this year's keynote speaker, Four-Star General Stanley McChrystal. The former commander of the US and international forces in Afghanistan and the former leader of Joint Special Operations
Command is credited with the capture of Saddam Hussein and the location and killing of al-Qaeda's leader in Iraq. He will share his experiences with business, teaching and public service.
Having Stanley McChrystal speak is apropos since the IFA is celebrating the 25th anniversary of VetFran, its veteran in franchising program. VetFran was created to provide opportunities in franchising to those who served in the military along with their spouses and to help them re-enter civilian life and the work force with business ownership. More than 650 franchises are members of the VetFran program and voluntarily offer financial discounts, mentoring and training for aspiring veteran franchisees and veterans seeking employment.
Tap here to learn more about becoming a member of VetFran program as a sponsor.
Sheryl Connelly, Manager of Global Trends and Futuring for Ford Motor Company and a TED conference speaker, will be the convention's closing keynote speaker and present ten mega trends that could change the world as we know it before 2050, how these trends could significantly impact businesses across multiple industries and how to thrive and remain relevant as a business.
Award Presentations
In addition to the keynote speakers and fast-paced educational sessions, the annual convention will take time to honor graduates of the Institute of Certified Franchise Executives (ICFE) and four top franchise leaders and executives with the following awards: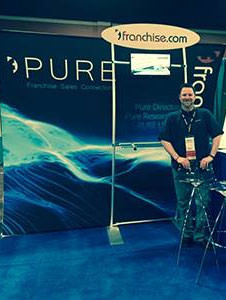 Hall of Fame Award
Entrepreneur of the Year
Bonny LeVine Award
Ronald E. Harrison Award
Visit Franchise.com in Booth #338
In addition to Franchise.com, hundreds of the leading companies serving the franchising community will be showcased at the event. Whether you're a current Franchise.com client, or you're interested in learning more about how Franchise.com can help you accomplish your goals, come meet the Franchise.com team, including our president, Matt Alden, and our sales team: Matthew Bogart, CFE Tom Braley and Kim Woods, CFE, at booth # 338 in the IFA Exhibit Hall.
Stay tuned for Franchise.com's highlights re-capping this year's IFA convention.