Awards, grand openings and media coverage oh my – Home Instead has lots to celebrate and announce and Franchise.com wants to help spread the word.
1. Home Instead's Nakajima Wins Bonny Levine Award
Yoshino Nakajima, Home Instead Senior Care® Chief Development Officer Emeritus, received the Bonny Levine Award at the International Franchise Association's 55th Annual Convention, which was held in Las Vegas this year.  The award recognizes a female who has demonstrated ability in franchising as evidenced by her:
Contributions to the growth of the business
Contributions to her community
Volunteer work
Activities that promote the professional advancement of women
Mentorship to women in franchising
2. Home Instead Celebrates Grand Openings in China
The Home Instead Senior Care® International Franchise Partners in Wuhan and Shenzhen, China recently celebrated grand openings, marking the introduction of Home Instead Senior Care® services to seniors and their families in China.
Jeff Huber, CEO of Home Instead, Inc. was on hand for the celebrations along with members of the Global Development team, government officials, clients, CAREGiversSM, local staff members and media.
The new Home Instead locations in China are significant due to the rising senior population in China. By 2030, the number of people in China over the age of 65 is expected to exceed 240 million, and the government is beginning to emphasize the importance of home care.
3. Quarterly Home Instead PR campaigns result in media coverage for franchisees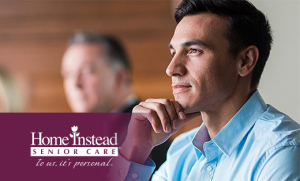 Home Instead franchisee, Chris Irons, sees direct results of the Home Instead Senior Care® Franchise public relations efforts. Home Instead has developed campaigns consistently which are designed to increase awareness of and stimulate discussion on senior care issues.
"I've been on TV nearly quarterly for the past two years, and it didn't cost a dime," says Irons. "As an owner, you're crazy if you don't take advantage of the public relations opportunities that Home Instead, Inc.'s public education programs can create."
In this case, the Prevent Senior Hospitalizations program attracted local media attention for Irons and his Indiana Home Instead Senior Care® franchise.
Program resources were developed based on research conducted by Home Instead, Inc.:  According to a survey of 400 North American nurses specializing in senior care, nearly half of senior hospitalizations could be avoided.
"As home care providers, we see the kinds of situations where there's potential risk—for a fall, or confusion with medications, for example," Irons explains. "There's no doubt that our CAREGiversSM help to prevent dozens of hospitalizations every year, but it's great to have education for the community as well."
Irons believes that, sales-wise, it's critical for franchisees to differentiate themselves from the competition. "It can be tough to stand out to referral providers, so these marketing tools help a lot."
Irons gives the following advice for potential owners choosing a franchise network. "Call as many owners as you can from franchises you're considering, and you'll get a good sense quickly by talking to them. Personally, I'd say go with the pioneer. If you look at the track record of the Home Instead Senior Care® network, there's a reason it has so many franchises. We have the training … the support … and franchisees are very happy with the Home Office."
About Home Instead
An innovator in eldercare since 1994, Home Instead Senior Care® has quickly become one of the world's largest and most trusted names in the industry and provides non-medical companionship and home care services to seniors around the world.
Home Instead franchisees have a passion for helping seniors and a desire to make a difference. If you're looking for a business that has a powerful brand name, relatively low start-up costs, growth potential, unprecedented corporate support and a most gratifying career path, explore Home Instead Senior Care® here.