Ziebart Corporation Helping to Drive Away Childhood Cancer
Ziebart Corporation is supporting Journey4ACure (J4AC) at a series of events this summer.  Ziebart Corporation, a wholly owned subsidiary of Ziebart International Corporation, which provides automotive services that protect, preserve and enhance the appearance of cars and trucks chose J4AC as their charitable partner this year with hopes to raise awareness of childhood cancer.
At the events listed below, Ziebart will collect donations for chances to spin a prize wheel which contains free services at Ziebart including: gift certificates, car wash cards and free car washes for a year.
Summer Concerts and Shows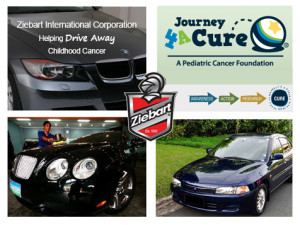 The Wexford Starlite Car Cruise – Friday, July 22, 2016 (5pm-9pm) – Wexford, PA
(North Way Christian Community Church)
The WGAR Dollar Bank Country Jam – Saturday, August 6, 2016 – Lorain, OH
(Black River Landing)
Beach Bash – Saturday, August 13, 2016 – Detroit, MI
(Ford Field on Brush Street)
"Ziebart is passionate about J4AC and what it stands for," said Larisa Walega, Director of Marketing. "By participating in this summer event tour, we feel confident that we will be able to further spread awareness of J4AC and its mission. With each event, we are one step closer to helping defeat childhood cancer."
About Journey 4ACure (J4AC)
Journey 4ACure is a pediatric cancer foundation committed to finding ways to fund research, increase awareness about the realities of pediatric cancer and enhance the lives of children battling cancer. They "journey" toward achieving this mission by enabling cutting-edge pediatric cancer research, informing the community about the realities of pediatric cancer, the statistics and funding inequities and encouraging public policy reform.
About Ziebart
Ziebart International Corporation is the worldwide leader in vehicle appearance and protection services. Since 1959, Ziebart has served the automotive enthusiast with valuable product and service offerings. Headquartered in Troy, Michigan, U.S.A., the Ziebart franchise has grown to an international network including approximately 400 licensed locations in 33 countries with over 800 service centers worldwide. For more information, tap here.