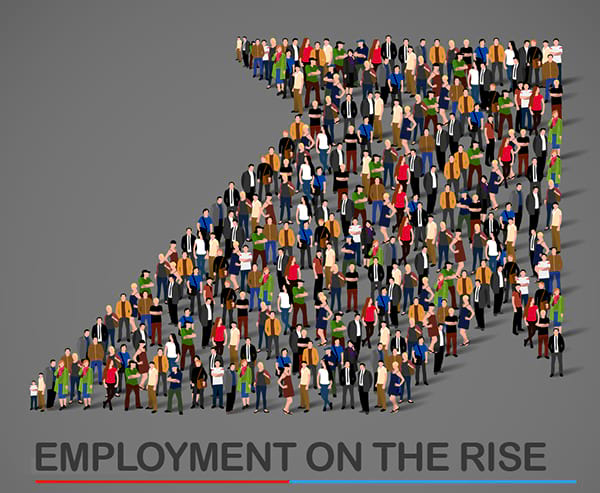 According to the ADP National Franchise Report released this month, there was an increase in franchise employment by 13,800 jobs in June. The top three industries with the largest increase in employment were restaurants (16,500), auto parts and dealers (400) and real estate (100). Food and restaurants is the franchise world's most visible segment and offers a variety of opportunities from food trucks to fine dining establishments.
The chart below demonstrates the past year's employment growth in franchising. If you're interested in becoming your own boss and operating a franchise or business opportunity, browse the concepts expanding in your area on Franchise.com today. Focus your search on businesses within your budget which offer in-demand products or services. It's also important for you to determine if you would like to be a hands-on owner where you are involved in the daily tasks of the business or, an absentee owner, a more hands-off approach where you hire the necessary staff to handle the daily operations of the business.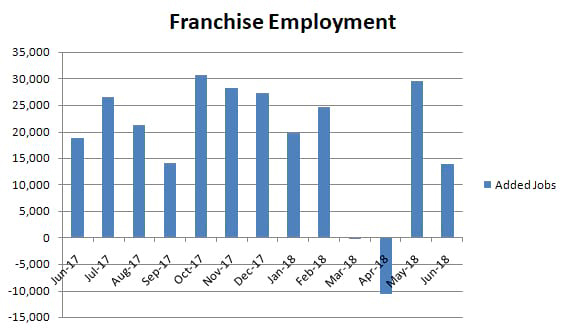 The U.S. Bureau of Labor Statistics reports the total number of jobs created from all small businesses in June throughout the country is 213,000. The industries which saw the most growth were the professional and business services, manufacturing and health care industries. To view franchises in the business services industry, tap here. You'll find an assortment of businesses which cater the the needs of business clients and include some of the following services: consulting, sales training, billing, income tax and accounting, commercial cleaning and shipping.
About ADP
The ADP National Franchise Report is published by the ADP Research Institute, a specialized group within ADP which provides insights around employment trends and workforce strategy, in collaboration with Moody's Analytics, Inc.
About Franchise.com
Franchise.com helps growing franchise systems meet their development objectives by showcasing their opportunities to prospective franchise buyers. The industry's most recognized portal, Franchise.com remains steadfast in its mission to deliver highly qualified prospects to its advertising clients.