Franchise businesses are a major contributor to business growth and job creation in nearly every local economy in the United States. The franchising model really took off in the 1950s and 60s when many restaurants like KFC®, McDonalds®, and Burger King® were established. By today's numbers, there are 733,000 franchise establishments in the U.S. Franchising directly creates 7.6 million jobs and indirectly supports 13.3 million jobs. Franchising also directly accounts for $404.6 billion in gross domestic product (GDP).
So with this boom in the franchising world, it's obvious that franchising works and when done correctly results in successful business efforts. It's not just in the fast-food or restaurant sector where good outcomes can be found either. Many types of business exist in a franchise format, from hardware stores to vending machines. But exactly what are the advantages of franchising? Before buying a franchise or franchising an already formed business, this is a question many people wonder about and an important one to research. Educating yourself on franchising and if it is a good fit for you is a crucial step before making any decisions. Although the numbers speak for themselves, let's take a closer look at some of the advantages of franchising for both franchisee and franchisor.
What is a franchise?
A franchise is an opportunity to buy into a proven successful business that has track records of a solid customer base, a strong training program, a solid supply chain, and high-quality technical support. For a business professional looking into buying a franchise, there are many types of franchises to choose from, depending on the franchisor's interests, goals, and financials.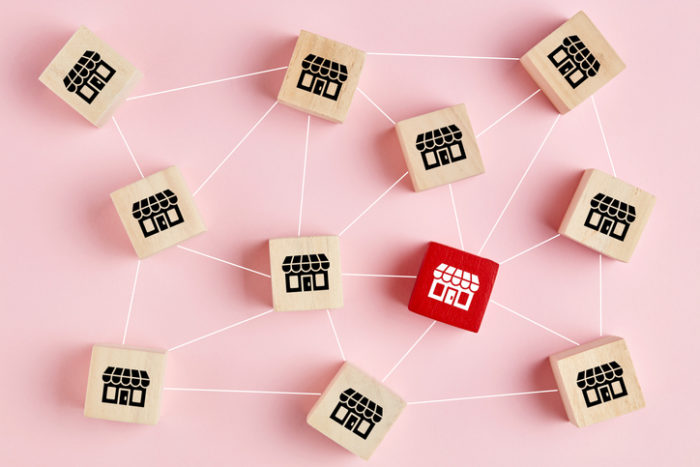 The main types of franchises include the job franchise, product franchise, business format franchise, investment franchise, and conversation franchise.
Although this franchise meaning is simplified, you can read more about the franchising meaning, in our article Franchise: The Ultimate Guide.
What are the 7 benefits of franchising for the franchisee?
Franchise brands can grow new locations at a faster rate than other types of small businesses. Individual franchise locations create jobs, and franchise networks multiply the jobs they create by replicating in more markets — or often in more locations in a single market if demand allows. The more they succeed, the greater the multiplier.
According to the Small Business Administration (SBA), 50% of new businesses fail during the first five years. Franchises can offer greater sustainability than non-franchised businesses. Franchises are much more likely to be operating after five years. This means more jobs being created longer for each location opened. Not only do the statistics look great, but franchising can be great for the franchisee as well.
Without further ado, let's dive into the question many people are asking "What are the main advantages of a franchise?" Here is our list of seven franchise advantages for a franchisee:
Lower risk
Buying into a franchise allows prospective business owners to skip the startup stage of writing a business plan, conducting market research, or testing products. They're entering into an already established business and brand that has proven to become successful. Because of this, franchises are typically more successful than solo businesses. The two-year franchise success rate is about 8% higher than the independent business success rate, according to a 2019 study based on official census data in the Journal of Economics & Management Strategy. Also, since franchises have already proven their business concept, you can have the reassurance that the products or services you'll be offering are in demand.
Brand recognition
Franchises come with instant brand recognition that many buyers know and trust. When building your business from scratch, you'll more than likely have to start from the ground up when it comes to advertising, marketing, and creating a reputable brand. When you buy into a franchise, this work has already been done for you. You can be a part of a well-known, trusted name where customers know what you provide and what to expect.
Business assistance
When becoming a part of a chain of franchises, franchisees receive business assistance — from the construction to the grand opening, to marketing and advertising. Depending on the franchise agreement, franchisees might receive a turnkey business operation that they can step into and hit the ground running. Other franchises might not guarantee a completed business from the start, but instead offer a wealth of knowledge from years in the business. That knowledge might be stored in a searchable online database or could be provided via a phone call directly to specialists at the franchise home office. Either way, all franchises have access to a deep reservoir of business assistance and information to receive wisdom and guidance, unlike a sole proprietorship, where many individuals have to figure it out themselves.
Employee training programs
Along with business assistance comes also employee training programs. These are often offered through franchises that teach all employees at every location how the business is run and operated. This can be extremely helpful when hiring individuals and starting a business because the franchisee is not alone in the process of selecting good employees and teaching them the ways of the business.
Buying power
Many franchises buy large amounts of inventory and equipment on behalf of their franchisees, meaning they obtain these important assets at a reduced cost. The sheer size of some franchise networks allows them to buy in bulk at reduced costs, allowing the franchisee the opportunity to tag along and receive goods that are lower than the shelf price. When operating a standalone business, owners will end up paying more money for their products and supplies per item because their order is relatively small.
Access to financing
Franchisees may have easier access to financing. Since SBA reserves a portion of their loan allotment specifically for franchises, franchisees may have an easier time qualifying than if they were to seek an SBA microloan for starting up an independent business of their own. This can break down the barrier when it comes to the high startup prices for some franchises, which can be anywhere from thousands of dollars to over $1 million. Check to see if the franchise you're interested in buying appears in the SBA Franchise Directory. 
Built-in customer base
The hardest part about owning a solo business is building a solid foundation and customer base. With a franchise that has a recognizable brand, this big hurdle is already taken care of. Even if a franchisee was the first to start a franchise branch in a small town, the likelihood of potential customers hearing about the business from TV ads, travel to other cities, or word of mouth is high.
What are the benefits of franchising for the franchisor?
Just as there are many advantages to buying into a franchise, there are also many advantages to franchising a business as a franchisor. Small business owners too often make the mistake of wanting to do everything themselves, including scale. If you're ready to take your company to new heights, then consider some of these noteworthy benefits of franchising a successful business:
Access to capital
The cost to expand is one of the business barriers for a business. And while there are business loans out there, many of them don't end up panning out as planned. The importance of franchising is that it allows a business owner to expand without going into debt. Franchising a business will take some time and money on the front end, but it also has the potential to make a lot of money in the long run. The business expands as capital becomes available from franchisees instead of taking on debt through loans. The franchisor also shares minimal risk with the franchisee because the franchisee puts their name on the deed for the physical location of the business and lowers the franchiser's overall liability.
Efficient growth
Opening the first location of a business is expensive and tiring, and it can be just as hard when trying to open a second location. When a business decides to franchise, franchisees can help lighten the load when it comes to opening new branches, making the process more efficient and effective. Overall, growth can be a simpler process.
Minimal supervision
Another perk about franchising is minimal employee supervision. Franchisors won't have to worry about hiring, firing, or managing the day-to-day schedules of employees. As a franchisor, the only support that you have to provide to the franchisee is training and business knowledge. As a general rule of thumb, the franchisor has no hand in the management, hiring, and firing of employees. Instead of worrying about employees showing up to their shift or not, franchisors can instead focus on growing their business through the expansion of their franchise system.
Increase brand awareness
The more locations a brand has, the more recognizable the business brand will become. The more customers learn to know and love the business, the more profitable it will be. Franchising a business can help the franchisor increase their brand awareness fast and will lower costs than if they were to do it by themselves. This is also a benefit to the franchisee, the more brand awareness the business has, the more business they will receive–it's a win-win situation for everyone.
Reduced risk
The ability to expand with a reduced risk is probably the biggest advantage of franchising a business. When the franchisee takes on the debt and liability of opening a unit under the name of the franchise, the franchisor gets all the benefits of an additional location without taking on the risk themselves. Additionally, the franchisor is often further insulated because the franchise is incorporated as a new business entity. This leaves the original business owned by the franchisor a separate entity from the franchised branch. A franchise lawyer can help to set up the terms for this type of protection within the franchise agreement.
Support in business
Overall, franchises are beneficial to both the franchisee and the franchisor. In the franchise process, individuals in the business can lean on each other and be a part of the growth of a successful product or service.
It's important to do research before choosing the franchise that's right for you and to understand all the pros and cons of franchising that you may come across as either the franchisee or franchisor. However, if you are well-suited for a franchise operation and select the right franchise, being a franchisee can indeed be the fast track to success.
As we all know that success for the brands means success for the overall economy, driving a virtuous cycle of growth.
Start your franchise off right with Franchise.com
Since our founding in 1995, we have become one of the largest online franchise organizations helping individuals like you become a franchisee or advertise your franchise business. Whether you want to share your franchise story with potential investors, or you are looking for your next franchise opportunity, we will fold you into our franchise community.
Today, we continue to be the go-to place for people beginning their business opportunity search and the journey of franchise ownership as well as for those already involved in the world of franchising.
Our innovative website unites the franchise community by serving as both a unique search tool for finding the right business for sale and a franchise industry resource that offers website visitors franchise information, the latest franchise industry news and high-demand resources.
If you're interested in advertising your franchise or business opportunity on Franchise.com, click here. If you're looking for franchising opportunities, click here. If you are wanting to educate yourself further on franchising, click here.