Now that the holidays are over, it is time to look forward and plan for the year ahead of us. Franchise.com, an online lead generation portal, is ready to get this year off to a running start and take a look at franchising and the year ahead. Read on to hear how president of Franchise.com, Matt Alden, views our business prospects and the top issues in franchising for the coming year.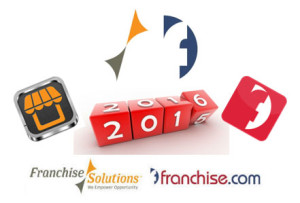 Matt's outlook for 2016
Our business, publishing paid directories of franchise opportunities, is really a barometer for general consumer (potential business buyer) interest in entrepreneurial pursuits. We operate on the front line of franchise development, connecting our franchisor customers with potential franchisees in a high-volume capacity. Business, measured quantitatively by prospective buyer volume and anecdotally by franchisor customer ROI, has continued to improve over the past several years. The franchise development outlook for 2016 is very positive, which is both good for us and for franchising at large.
Top issues facing Franchise.com and what we'll be doing differently in 2016
Thankfully "shopping" behavior around life-changing purchase or investment decisions continues to start online at directory or information aggregator sites and, more often than not, on smart phones. So we're very well positioned in this regard with both responsive-design websites and our iOS and Android Apps. The top issue facing our business in 2016 is, in essence, the same top issue we've faced since 1996: the rigors of delivering value to both our paying (franchisor) customers and our prospective franchise buyer visitorship while facilitating enough quality connections to drive attractive recruitment economics.
Our visitors want credible, free information about the franchise businesses they're interested in as they begin or continue their research process. Our franchisor customers want sales leads ready to speak with them within minutes of receiving the lead. In the meantime, long gone are the days of the phone (voice calls) being the first or primary sales communications vehicle. Our business challenge lies in the balance between delivering free information to prospective franchisees and delivering quality sales leads to franchisors while sustaining the volume that our franchisor customers demand. And, our work here, both technologically and humanly is ongoing in earnest.
Franchising's Job Creation Momentum
Franchise.com typically experiences an increase of activity in January due to the motivation from the start of a new year.
If the ADP's report released for December is any indication of what lies ahead for the future growth of franchising, it looks positive as the U.S. added 48,600 franchise Jobs during December. "Franchise employment growth finished strong in December adding the second most jobs of any month in 2015," said
Ahu Yildirmaz, vice president and head of the ADP Research Institute.  "Restaurants had their second biggest month of the year and accounted for two-thirds of the jobs added this month."
About Franchise.com
Offering Internet lead generation since 1995, Franchise.com helps growing franchise systems meet their development objectives by showcasing their opportunities to prospective franchise buyers. The industry's most recognized portal, Franchise.com remains steadfast in its mission to deliver highly qualified prospects to its advertising clients.