The statistics are staggering. According to the Population Reference Bureau's Population Bulletin, "Aging in the United States," the number of Americans ages 65 and older is projected to nearly double. The senior population will increase from 52 million in 2018 to 95 million by 2060. And, the total senior population will rise from 16 percent to 23 percent. With numbers like these, it seems obvious that there are opportunities for companies to help seniors as they age. One way to provide the services they will need to stay happier and healthier as long as possible is to open a Home Instead franchise.
That's why now is a particularly good time to be at the forefront of what is often referred to as "the silver tsunami." Cater to the senior care population as a Home Instead Senior Care franchise owner.
Discovering What Seniors Want
Even though seniors are the fastest-growing demographic, few businesses have taken the time to learn about the wants and needs of the senior population. For example, builders and developers are investing millions into assisted living communities. But, is that really what seniors want?
According to a study by the AARP, 76% of people over the age of 50 have expressed a strong desire to stay in their current homes as they age. Knowing statistics like this help companies working in the senior care industry, such as Home Instead Senior Care, provide critical services to seniors. Services that will help people in this demographic age better especially as they live longer.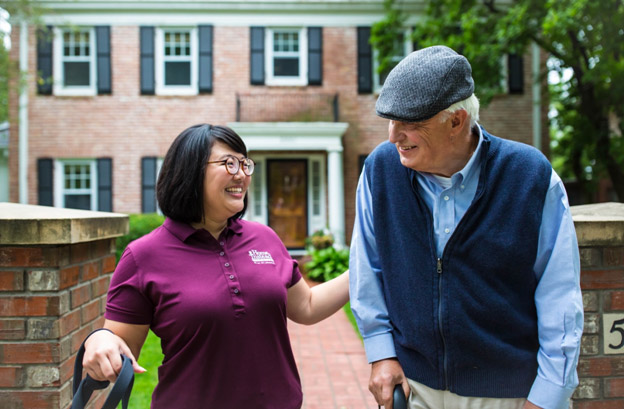 Home Instead Helps Seniors Age Better
Here are 5 ways senior care businesses can provide services that will help seniors age better.
1) Keeping seniors healthy and active
Forget the image of the frail old lady rocking on her porch. Today's seniors are more independent and active than people of the same age in previous generations. But that doesn't mean they don't need some help as they get older. CAREGivers from Home Instead Senior Care are trained to keep seniors as active as possible. CAREGivers help them make healthy choices, get exercise and eat nutritious food.
2) Taking the burden off of family members
When an adult child finds they must take on caregiving duties, it changes their relationship with their parent. Having a CAREGiver from Home Instead Senior Care on duty helps keep relationships between seniors and their adult children strong. This makes everyone happier.
3) Helping seniors stay independent
As seniors get older, many find they can no longer drive. This makes them feel shut off from friends and activities they enjoy. They are also unable to run errands. CAREGivers can provide transportation to doctor appointments, shopping trips, or to visit friends. This helps to ensure seniors get where they need to go safely and helps them remain independent.
4) Using tech to connect with seniors and families
Seniors are tech-savvy. According to a recent Pew Research poll, 95% of people over the age of 50 have a mobile phone and nearly 80% have a smartphone. Home Instead Senior Care is investing heavily in technology that will help seniors age safely in place and keep them connected to those they love.
5) Putting seniors' retirement funds to the best use
Assisted living facilities are expensive. Aging at home is a less expensive option that also keeps seniors where they want to be. And with people living longer, it's no wonder that older adults are looking for the best use of the retirement funds.
What Owners Have to Say
Franchise owner Jerohn Gorman of Austin, TX talked to us recently about why he and his wife chose to become Home Instead Senior Care franchise owners. "The last few years we have been looking for the next opportunity that would align with our values and fulfill our financial goals," he told us. "When my wife was a pre-teen her best friend was her grandmother. Unfortunately, because of many reasons, Tasha's grandmother was placed in a nursing home rather than being allowed to stay in her own home. This drove her to a passion for helping seniors live out there last days where they wanted to be. We chose Home Instead because their core values lined up with that of our own and it is a great opportunity to make a difference in our community while allowing us to attain our financial goals."
If you or someone you know is interested in help seniors age better by opening a Home Instead senior care franchise business, click here. We'd love to show you why Home Instead was named a Top Franchise Leader by Franchise Business Review.
About Home Instead Senior Care
Home Instead Senior Care® is the leading provider of in-home care services for seniors worldwide. We have more than 22 years of experience and over 1,000 franchises in 14 countries. You can trust that our business model works. You'll also have the confidence of being part of an award-winning franchise network with a history of top franchising honors, industry excellence, and franchisee satisfaction. The level of support we offer to owners is unrivaled in any other franchise system. We have 150 passionate professionals at Home Instead, Inc. Home Office eager to engage with owners and provide the support they need. Want to learn more? Contact us.
Resources:
https://acl.gov/sites/default/files/Aging%20and%20Disability%20in%20America/2018OlderAmericansProfile.pdf
https://www.prb.org/aging-unitedstates-fact-sheet/
https://www.forbes.com/sites/jeffbevis/2019/10/19/5-ways-the-increasing-senior-population-is-changing-business/#3f676dd8e152