Investing in an existing business can help you start your entrepreneurial journey with an established business plan and loyal customers. But if you're looking for a business for sale, you might not be sure where to start. If you're interested in buying a small business, it's possible to find the right one for in a few different ways: searching online, talking to local business owners, and consulting a business broker. Let's explore these steps further.
How To Find Small Businesses For Sale?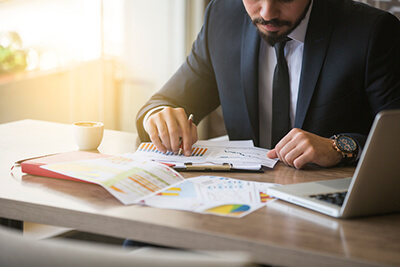 If you're looking to find a business for sale, these are steps you can take that help you find great opportunities:
1. Hire a Business Broker
Most sellers employ business brokers to help them to find buyers and arrange transactions to buy their business. Small business "For Sale" lists are often maintained by individual business brokers or brokerage companies, allowing them to provide you with a variety of possibilities. Some business brokers exclusively represent businesses operating in a certain region or industry. They can help you find listings that meet your requirements, such as:
Type of business
General price range
Location
Other criteria
Brokers can help you figure out what types of businesses you're interested in, tell you which businesses to avoid within an industry, and help you negotiate your contract.
However, because the broker usually represents the seller, they could take a high percentage of the sale—around 5-10%. Search for a broker that understands and advocates for your needs, rather than those of the seller. Business brokers have specialist understanding of the tax and legal implications associated with these business contracts, which helps to cut expenses and lower the possibility of problems later on. Additionally, brokers have strong relationships with the accountants, lawyers, and other experts that could be needed to help with the transaction.
Finding business brokers that willingly participate in organizations dedicated to promoting ethical principles and professionalism, like the IBBA or other trade associations, may often be advantageous. Some could even hold the status of Certified Business Intermediary (CBI), a special distinction that proves their extensive training.
2. Search Business "For Sale" Directories
Online searches are the quickest approach to find a privately-owned business for sale. These sites and ads might not have all the information you want, but you can conduct your own research to get more detailed data. Depending on the listing site you use, you could discover different levels of information, such as the company's history and current gross revenue, as well as asking price and inventory value.
Numerous websites collect data on businesses and franchises that are for sale online. The best websites to buy businesses include websites like BusinessBroker.net or Franchise.com. You have options to narrow your search by price, location, and industry. These sites are especially helpful if you are still unclear about the type of company you want to buy or the location in which you want to operate. By setting up alerts on most of these websites for when businesses that meet your criteria become available, you can stay on top of your search for a small business for sale.
3. Contact Local Businesses
While searching for a "small business for sale near me," you might find it advantageous to reach out to local business owners you know. If you're willing to reach out, you could be referred to a private business for sale by an owner that they are connected with. Another option is to call local businesses. You could connect with a company owner who is selling around your preferred location or the owner might be able to suggest other businesses in the area or industry that are also up for sale. It might also be beneficial to consider joining your area chamber of commerce or looking for online business groups to network with additional local businesspeople.
Is It a Good Idea to Buy an Existing Business?
If you're looking for a lower-risk operation, buying an existing business is a great way to ensure you have clients and customers, employees, systems, suppliers, financial history, and a location(s). However, it's possible that an owner is selling because it's not doing well or going out of business. It's important to learn about the business, its history, and its financials before deciding to buy. But there are other options that give you the support of an established business plan, while giving you the freedom and flexibility of being your own boss.
Franchises are a great way to get into small business ownership. With an existing franchise, you'll get developed, proven operations and training guidelines that will help you get started. Your business will already have brand recognition, so you don't have to create your own brand awareness and marketing campaigns. Franchises offer you consistent support and a wealth of business resources. And with smaller franchises, you might get more creative input as a franchisee.
If you're interested in a franchise, Franchise.com has a vast marketplace of franchises available for investment. We work hard to provide potential franchisees straightforward and user-friendly franchise search tools tailored to your industry and investment level. Contact us or try out our search today for more information on starting your own franchise.