Many people dream of owning their own business—they want to be their own boss, create their own schedule, and not have to answer to anyone. The thing is, not everyone who shares that dream feels they have a brilliant idea or invention that warrants starting their own business from scratch. Even if they do, they might be wary of facts like 1 in 5 new businesses fail within the first year.
But, what if there were a way to jump into an established business after it had already been set up? Good news, there is. In fact, there is more than one way to do that. You can buy an existing business for sale or franchise. While these two options have some notable differences, they both offer a path to business ownership and many of its perks. But even if you decide which path you want to take, how can you know if it's the right time? We take a look at all of this and more in the following article.
Is Right Now a Good Time to Buy a Business?
It depends. The best time to buy a business is when it's right for you. This might depend on factors such as your financial situation, the economic outlook, and whether or not you can find a business you would actually want to buy. Naturally, you will want to make sure you have the money to buy a business, but you should also consider some of the advantages and disadvantages of buying an existing business as well.
Why Would Someone Purchase an Existing Business?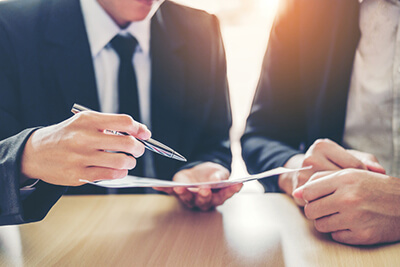 There are any number of reasons why someone might purchase an existing business. For starters, many people want to own or manage their own company. Buying an existing business is a viable path to accomplish this goal. As an added bonus, it can eliminate much of the stress and hurdles associated with creating a new business. Instead of offering new products or services, hiring employees, finding a physical office location, and building a customer base, you can essentially buy into all of that when purchasing an existing business.
What Are Other Advantages and Disadvantages of Buying an Existing Business?
There are a handful of risks and benefits associated with buying an existing business. Oftentimes, these advantages and disadvantages of buying an existing business can be two sides of the same coin. Let's explain.
Established reputation: One of the big reasons you might want to buy a business is their existing reputation. They should already have a customer base and be recognizable in the community. The catch here is that their reputation might not always be good. If you are buying a failing business for example, with the hopes of turning it around, community members may be wary of returning to a business or location where they have previously had a negative experience.
Existing business model: Again, buying an existing business means there is already a business model and set of operations. This can be extremely helpful if you purchase a successful business. On the other hand, if you invest in a business with an ineffective business model or inefficient set of operations, it can be difficult to turn the ship around.
Employed staff: When you take over a business, you also assume responsibility for the staff. While it's good to have employees who know your customers and business, you might also want to bring in your own employees. This can leave you with some difficult decisions about letting employees go, and if so, who, when, and how. Additionally, when you start to hire or fire employees, it can make the rest of the staff a little wary of their own position which can negatively affect team morale.
So, is it a good idea to buy an existing business? The short answer is it can be. There are both risks and benefits of buying an existing business. Therefore, it is important to do your due diligence and research when investigating what business you may want to buy.
Franchise.com: A Different Way to Buy a Business
If the prospect of being your own boss is enticing, but you aren't sure you want to buy an existing business, one alternative is to buy a franchise. Essentially, buying a franchise can provide you with all the benefits of buying an existing business while mitigating many of the downsides. For example, you still get an established reputation, business model, and customer base, but you can start with a new location and set of employees if you want. Plus, the parent company will offer plenty of guidance to help make your franchise as successful as possible.
Starting a franchise may also provide more flexibility when it comes to choosing a business. You can filter by business type, startup costs, locations, and more. Check out our directory today to get started!