Michael Scully, former NFL Lineman and recently retired PGA Head Professional, is on to his next chapter with an exciting new franchise – The Dapper Doughnut. After exploring ownership with some of the larger food franchises, Scully decided to broaden his search and soon found The Dapper Doughnut while visiting Franchise.com, where he made his connection with the brother team of Jeff and Brian Pappas who are handling national expansion. The match has proven productive for all parties as Scully already has his first of several stores open in the Phoenix, AZ market.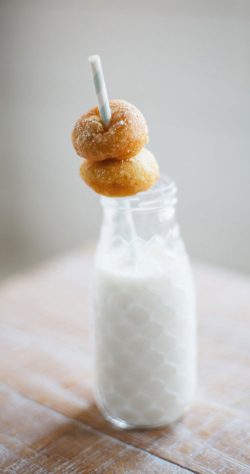 We recently caught up with Michael to talk about his new venture and early experience as a Dapper Doughnut franchise owner.
Franchise.com: Is TDD your first venture into business ownership?
MS: Yes, after playing football and over 20 years in the golf business, I jumped in with both feet and bought into the TDD Franchise. I leaned on my dad as he was a small business owner and we both loved the TDD concept.
Franchise.com: Were you looking generally at food/retail franchises or specifically at Doughnut franchises when you found TDD?
MS: I was concentrating on the food/retail sector and went through some major steps with a couple of the large franchises. But I felt the need to continue my search, and it was then that I came across TDD on Franchise.com.
Franchise.com: Why did you choose this particular franchise?
MS: A couple of reasons. The Dapper Doughnut is a small footprint with a simple but proven menu – doughnuts, coffee, milkshakes… and they're great mini doughnuts with an attractive novelty factor. Who doesn't like doughnuts! Also, Jeff & Brian Pappas have made this whole process a lot of fun and we're going to do nothing but grow our brand.
Franchise.com: Why did you choose franchising over starting a similar business independently?
MS: In working at Medinah Country Club I had several members who were and are franchise owners. I leaned on them a lot for counsel and they all shared the highs and lows. In the end, starting my first business, we felt it was best to start under the guidance of a franchise and Jeff and Brian have been awesome to work with as we build our franchise.
Franchise.com: How has your experience as a NFL player helped you
in finding and buying this franchise? Any skills in particular? Any networking with other retired NFL'ers that have invested in franchise businesses?
MS: It's been a big help as many former players have taken this same path and have been pushing me for years to jump, and I finally had enough of working for someone else and decided this was going to be for me and solely me. As far as important skills I'd say it's more about characteristics or values – discipline, dedication, perseverance, and teamwork as I build my team. Through this process I've spoken with a few other former players about their experiences and that has been tremendously helpful. Incidentally, there are a few in the works with TDD and you will hear and see that in the coming months.
Franchise.com: Have there been any unexpected challenges you've encountered while opening your franchise?
MS: Learning how the process goes with the municipalities regarding permitting has been the greatest challenge.
Franchise.com: In your experience so far, what's the best thing about being a franchise owner?
MS: I really like getting up every day knowing the time and effort I put in is for me and my family first!  That's what's driving me, to be successful for us and have fun while doing it!!
Franchise.com: What advice can you offer others who are considering owning a franchise?
MS: Jump!  Don't look back it will be the most rewarding thing you have done professionally.
Franchise.com: What are your future plans with your business?
MS: We have our first location open with our second coming online mid-July and a third in the early fall.  We will be adding additional locations in 2019.