There are many advantages and disadvantages of franchising, and for many franchisees, the benefits far outweigh the drawbacks. At Franchise.com, we value those who have a strong entrepreneurial spirit. If we could explain one benefit to an entrepreneur of buying a franchise to start a business, it would be the ability to partner with a company that has a tried-and-true business model.
The following guide explains these advantages further and lists some ways to overcome the disadvantages of the franchising model.
The Advantages of Franchising
If you were to ask one of America's top franchises to explain one benefit to an entrepreneur of buying a franchise to start a business, what do you think they would say? They might respond with one of the following key advantages of investing in a franchise.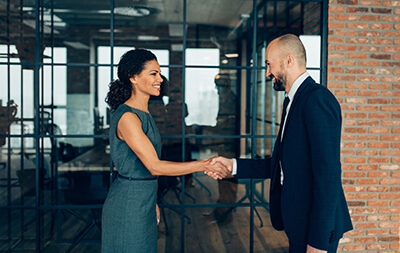 Franchising Is More Flexible than You Think
Franchising gives you the chance to be your own boss. Franchisees indeed have to adopt the business model of the franchisor, but there's a lot of freedom within that model.
Owning a franchise gives you the freedom to set your own schedule, make your own hiring decisions, and more. In some cases, you may even be able to work part-time and start your franchising experience as a side hustle before deciding to quit your day job.
Franchising Is More Affordable than You Think
Some companies have steep franchising fees and other startup costs. But many other franchises can be started for under $50,000, and some franchises can be started for even less. This means that you'll have an easier time getting up and running as a franchise operator, and your initial costs won't take a huge bite out of your profits.
Franchising Is Less Risky than You Think
Starting your own business can be risky. Many first-time business owners don't even make it to their fifth anniversary. But with a franchise, you're operating out of a business model that's been time-tested and proven effective. As a franchisee, you'll incur less risk than starting a business from scratch.
Franchising Offers More Support than You Think
Franchisees gain the support of their parent company long before their doors even open. Many franchising companies offer training and support, as well as guidance when it comes to major business decisions. In many cases, you'll have the advantage of a nationwide marketing campaign, and the built-in brand recognition makes it easier to tap into a devoted customer base.
The Disadvantages of Franchising
Of course, franchising isn't for everyone. Weighing the advantages and disadvantages of franchising can help you make a better decision about your financial future. Here are some of the disadvantages of the franchising model, along with some tips on how to overcome them.
Franchising Can Have High Startup Fees
Depending on the company, you may face high franchising fees and other upfront costs. You'll have to secure funding before you get started, and paying back those business loans can eat into your profits. The good news is that these companies tend to be lucrative anyway, which means you'll get back what you put into the business.
Still, if these high costs seem prohibitive, you can always search for a franchising opportunity that costs less or has fewer overhead costs to worry about.
Franchising Limits Your Creative Side
If you're committed to doing things your way, franchising might not be the right fit for you. Sole proprietors make all of their own decisions, something you simply can't do when working for an established brand.
With that being said, there can be a lot of freedom when you follow the guidance of your parent company. With less to worry about, you might find your energy is best used elsewhere, allowing you to reap the financial rewards.
Franchising Isn't Always Long-Term
Check the fine print of that franchise agreement. Your tenure within the company may be limited to only five to ten years. As you consider the advantages and disadvantages of franchising, you'll want to ensure that your contract aligns with your goals.
Of course, you can also ask about renewal options. This effectively allows you to renew your contract indefinitely, giving you greater long-term job security.
Explore Your Franchising Options
If you had to explain one benefit to an entrepreneur of buying a franchise to start a business, what would you say? If the benefits of franchising sound appealing, then let Franchise.com be your first step toward business ownership. Use our search tool to find franchise or business opportunities that align with your passions, budget, or geographic area, and start your journey today.